Formal farewell for Argentine Malvinas Mirage aircraft, after 40 years service
Monday, August 17th 2015 - 07:18 UTC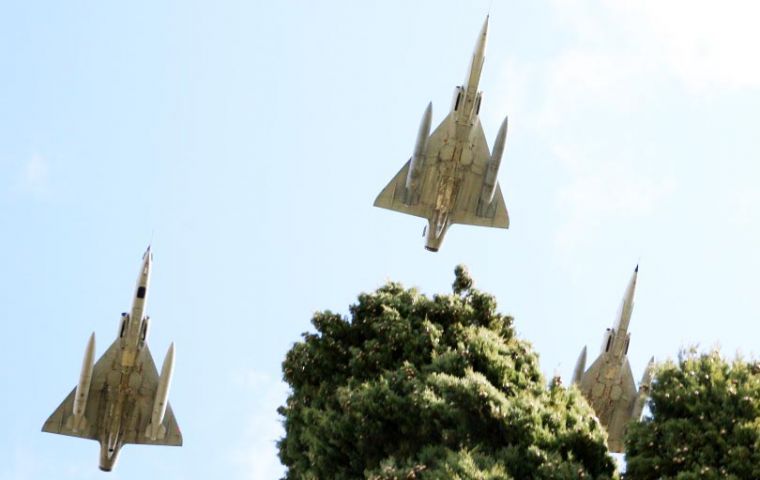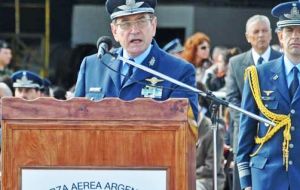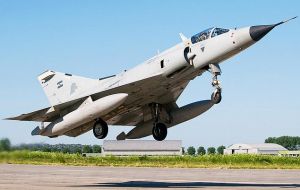 Last week the Argentine Air Force formally bid farewell to the remaining French built Mirage jet fighters, which saw combat during the Falkland Islands conflict in 1982, since in three months time they will be decommissioned after four decades service. The occasion was the 103 anniversary of the Air Force (10th August but celebrated on the 13th).
Despite having extended the lifespan and flying hours of the few Mirages left, the repeated problems with the obsolete avionics only allows them to fly during day light with pilots keeping visual contact.
Since the current administration of president Cristina Fernandez will be stepping down next 10 December, expectations of replacement purchases remain on the desk after several publicized attempts with combat aircraft from Spain, Israel, France, Brazil, and finally China, which seems the supplier with best chances, based on price and credit conditions.
Meanwhile Argentine pilots will have to train with the locally designed and built Pampas, also proven during the Falklands conflict.
"Our dear Mirage will cease to fly at the end of November, and we are waiting for some new system of that quality level and with new technology to replace it" according to the Air Force chief and Malvinas veteran Brigadier General Miguel Callejos.
"Saying farewell to Mirages is nostalgic because it is an emblematic aircraft with a glorious performance, with over forty years in the Argentine Air Force, over 130.000 flight-hours and played a leading role in war, all of which makes us feel our dear Mirage has soul and life", added the Air Force chief.
"The political decision to purchase replacements for the Mirages is a fact, the problem is when, and which aircraft to chose", according to political sources mentioned in the Buenos Aires media. But all speculate that the main obstacle remains the lack of sufficient funds.
However during the Kirchnerite years there were some advances among which the incorporation of the training aircraft Grob TP120 and Russian manufactured helicopters MI17, which are much needed for Antarctica operations. Furthermore despite some problems with sea provision of Argentina's Antarctic bases, since last July apparently Argentina's Marambio has the longest and widest airstrip in the white continent, 1.600 by 45 meters.
Likewise Argentina will be receiving five Hercules C-130 refurbished under the United States Foreign Military sales, an operation involving 70 million dollars, according to Brigadier General Callejos. The first cargo and logistics aircraft is expected sometime in October and will also help in refurbishing other units at the Argentine Aircraft Factory in Córdoba.
Since 2005, Argentina has developed tridimensional radars with a 400 kilometers range and is currently finishing the fourth unit. They have been displayed for air traffic but also for combating the drugs, smuggling and arms trade, quite extended along the porous borders with Bolivia, Paraguay and Brazil.