South Georgia expects another cruise record season this 2015/16 season
Tuesday, August 18th 2015 - 08:55 UTC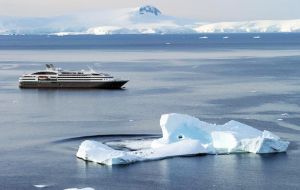 South Georgia is looking ahead to a new record year in the coming 2015/16 cruise ship season, according to the latest edition of the South Georgia Newsletter.
Seventy-two cruise ships are already booked to visit the island between late October 2015 and early April 2016, so it is likely that the number that actually come will exceed the previous highest number when 70 cruise ships visited in 2008-9.
Of course, bad weather, breakdown and other factors can mean some booked vessels do not actually visit the island.
Following a record year for passenger numbers last season, when 8,142 cruise ship passengers came, next season should reach a new high. The passenger capacity of the booked vessels (if they are fully booked) is just under 10,000.
Occupancy aboard the fleet visiting South Georgia last season was high so, if booking levels remain good, tourist numbers next season could well exceed 9,000.