Brazil in recession, according to the Central Bank's economic activity index
Thursday, August 20th 2015 - 06:32 UTC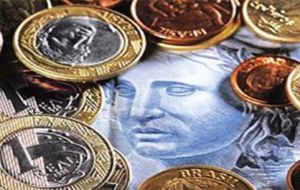 Economic activity in Brazil fell more quickly than expected in June, central bank data showed on Wednesday, adding to evidence that the once-booming economy is suffering a painful recession. The Brazilian central bank's IBC-Br economic activity index fell 0.58% in June from the prior month, the bank said in a report released on Wednesday.
A comparison of the monthly indexes showed the Brazilian economy contracted by 1.89% in the second quarter from the first.
The IBC-Br index, a gauge of activity in the farming, industry and services sectors, is an early indicator of GDP. IBGE, the country's statistics institute, will publish second-quarter economic activity results on Aug. 28.
The Brazilian economy shrank 0.2% in the first quarter as investments fell for the seventh straight quarter. If confirmed by official data, the back-to-back contractions will show what most economists already know: The Brazilian economy has fallen into a deep recession.
A weekly central bank survey of economists published on Monday showed expectations that the Brazilian economy would shrink by 0.15% next year, following a sharp contraction of more than 2% forecast for this year. Brazil has not faced two years of declines since the Great Depression of the 1930s, economists said.
Years of dwindling confidence exacerbated by a growing political crisis and corruption scandal at major state-run companies has dragged down investment and consumption in Brazil.