Two lady leaders under fire, meet in Brazil hoping to recover ground
Thursday, August 20th 2015 - 07:07 UTC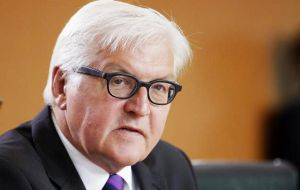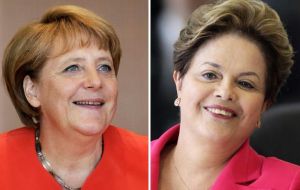 Chancellor Angela Merkel, Foreign Minister Frank-Walter Steinmeier and several other high-ranking German politicians touched down in Brazil's capital, Brasilia late Wednesday. The German delegation set off on its 12-hour flight immediately after a Bundestag vote approving a new bailout package for Greece.
It's the first such bilateral "governmental consultation" meeting between the European and South American economic powerhouses. During the brief two-day visit, the representatives are due to discuss economic agreements, trade, conservation and online security.
"Germany and Brazil have centuries-old ties", minister Steinmeier told Brazilian newspaper "Folha de S. Paulo" on Wednesday in reply to a question about how Germany's government viewed the current tense political situation in Brazil.
"The first German immigrants arrived in Brazil about 200 years ago and the German companies set up there 150 years ago, therefore Germany takes a long-term perspective when it came to bilateral relations".
"Brazil is and remains our most important partner in Latin America, entirely irrespective of current challenges in Brazilian domestic politics," emphasized Steinmeier.
The trip was announced in mid-February, when Rousseff still breathed politically and Merkel was leading with no surprises or challenges the course of European politics. But that has changed dramatically.
Rousseff will present an investment plan in infrastructure and will try to use the Chancellor's visit to show external prestige in a moment of weakness.
Merkel had to delay the visit to Brazil in a few hours to prevent the Parliament in Berlin to vote against Greek aid. Leaders of her party, the CDU (Christian Democratic Union), threatened to overturn the agreement. For the first time since she took over in 2005, Merkel has her leadership challenged.
Merkel's delegation to Brasilia includes seven Ministers and five Secretaries of State. It will be the first bilateral meeting since Germany included Brazil on the list of countries with which it keeps high level relationship.
Merkel and Rousseff are scheduled to meet on Thursday (20) and both will make a statement to the press about the importance of the bilateral relationship.
Also included is a declaration on combating climate change, in which Rousseff must strengthen the commitment to reach "ambitious targets", but without setting numbers. They will also emphasize Brazil's main argument: the need to help the least developed countries to do their part.
Major financial settlements are not expected for this meeting between the two leaders. The memorandum of understanding that will be signed include urban mobility and environmental aid from Germany; projects worth $ 144.2 million (R$ 500 million), a modest amount compared to the businesses of the two countries.