Falklands' retail price index down to 0.3% in first half on lower fuel and power costs
Saturday, August 22nd 2015 - 02:46 UTC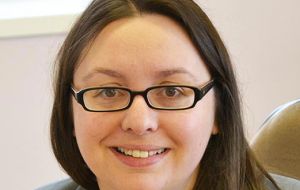 The Falklands' Retail Price Index for the quarter ending June 30, 2015 decreased by 0.8%, meaning that the annual Retail Price Index (RPI) as at the end of June was 0.3%, helped by lower prices of fuel and power.
At the last meeting of the Standing Finance Committee, it was noted that these movements are mainly a result in decreases in heating fuel, kerosene of (1.04%) and electricity by (0.30%).
The index is well below the estimated rate of 1.4% for the 2015/16 fiscal year announced during the annual presentation of the budget.
The Falklands' economy has been going through an expansion period supported by fisheries, tourism, agriculture and the current round of oil exploration, even when the full impact of the hydrocarbons boost was mainly in 2012/13.
Financial Secretary Nicola Granger said at budget time that the strategy basically targets keeping Falklands' expenditure in line with available means; no debt for operating purposes; sufficient reserves to face economic volatility; efficient and effective public services but with an emphasis in recovering costs and improving Islanders quality of life.
To that respect Ms. Granger announced that the Falklands treasury had sufficient financial surplus as to ensure 2.5 times department spends with non committed funds, and 1.4% inflation.
But the Financial Secretary also pointed out that the Falklands' economy "is not without its challenges, falling oil prices, and reliance on a few core industries and commodities continue to provide the Islands with challenges to address".