Franco-Brazilian journalist beaten-up in Ecuador leaves the country but promises to return
Monday, August 24th 2015 - 10:35 UTC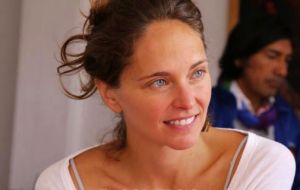 Detained, beaten-up and threatened with deportation: Franco-Brazilian journalist Manuela Picq experienced the rough edges of Ecuador's political system after attending an anti-government rally this month backed by union bosses and indigenous leaders.
Although an Ecuadorian judge last week rejected the authorities request to deport Picq, sending it back to the Ministry of Interior for re-consideration, Picq elected to leave the country, pledging to return and fight her case at a later date.
The government claimed Picq's visa had long ago expired, implying she was staying in the country illegally.
The official report of Manuela Picq's arrest on the Ecuadorian Ministry of Interior web-page states the journalist was being assaulted by unknown people when the national police came to her aid and gave her medical and psychological assistance.
The newspaper El Comercio shared a video in which the detention downtown in the national capital Quito can be clearly seen.
Picq — an academic and regular contributor of Al Jazeera — was subsequently taken to the Hospital Eugenio Espejo. At 11 pm local time fifty police officers arrived outside the emergency ward. Among the police officers, there were some carrying anti-riot oarlocks and shields, the newspaper El Comercio reported.
The following day, however, Picq wrote on her Facebook page that her visa had been cancelled. The journalist, who has been living in Ecuador for eight years, alleged police violence in an interview with the newspaper El Comercio:
"My visa expires on the 28th of this month and it is renewed on an annual basis. It is certainly a legal and valid document that was cancelled arbitrarily and abruptly this morning. Yesterday, I was not staying illegally and I was arrested without any reason, there were no causes for my detention…As a human being, I feel a mixture of many things; I received a strike with a gun to my face, I lost my left eye vision for several hours last night, thankfully I'm ok. I was beaten up badly; I was treated like a criminal only for walking the streets".
Her case promptly reached the crowd-sourcing petitioner Change.org under the headline Stop the Deportation of Manuela Picq.
The letter, which raises alarm over the violent treatment accorded to Picq, is addressed to President Rafael Correa and has gathered more than 8,000 signatures.
Picq's problems may have come about due to her relationship with a prominent indigenous leader present at the protest, Carlos Perez Guartambel.
Guartambel leads the Confederation of Peoples of Kichwa of Ecuador (Ecuarunari) and is also Picq's life partner. Ecuarunari is affiliated to a broader indigenous movement represented by the Confederation of the Indigenous Nationalities of Ecuador (Conaie), that backed workers' calls for the protest.
The indigenous leader, who has inflamed the government by leading opposition towards several mining projects, told journalists that what had happened to Picq was part of a concerted government campaign of threats and intimidation against him and his organization. The rally saw more than 70 persons arrested throughout the country.
Manuela Picq has since announced that she will try to obtain a visa to return to Ecuador and that she will file a law suit against the government before the Inter-American Court of Human Rights to investigate the crime of violation of constitutional rights and migration.