Magallanes suffers abrupt drop in economic activity in second quarter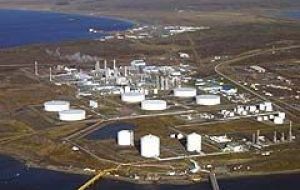 Magallanes region in the extreme south of Chile suffered an abrupt and unexpected drop in economic activity during the second quarter of this year according to the latest release from the country's stats office, INE.
Activity was down 3.4% compared to the same period a year ago and this was attributed to strong drops in manufacturing and mining activities. However overall activity in the first half of the year for Magallanes was a positive 0.4%.
In manufacturing, hydrocarbons refining activity plunged and so did oil and gas exploration in mining. In both cases the fall in oil prices below 50 dollars per barrel and a ballooning dollar which climbed to 700 Chilean pesos have had their impact.
GeoPark Chile which is the main private company operating in Magallanes for oil and gas said that the international price for oil dropped far below their expectations, but nevertheless the company has targeted three goals, 'improving production, optimizing operational costs and special attention to any investment'.
"We're adapting, we've increased our global oil production by 4.000 bpd during the first half of 2015, and our planning is always long term and we are confident of success in Magallanes", said Alberto Matamoros, head of GeoPark Chile.
Another sector which has suffered a serious contraction is construction. "Volatility has been very high lately: last year the fourth quarter we saw a boost of 8.1%, then in the first quarter of this year, a modest 2.5% and now a plunge of 3.4%", said Jan Gysling regional president of Chile's Chamber of Construction.
"But, what really concerns is that the only sectors which have proved positive are government administration (and bureaucracy) and public utilities, while most from branches the private sector are down", underlined Gysling.
Paul Gnadt, head of the Chilean Economy ministry regional office argued that the poor performance results in Magallanes can be considered "seasonal" because there are ups and downs in production in any normal economic activity.
"Power and gas is normal they should have increased activity since it's winter, and regarding real estate and house sales, people are taking advantage of the fiscal reform, which becomes effective next year and prices are expected to go up", said Gnadt.
On the negative side, salmon season is down, oil extraction suffers from the fall in international prices and coal exports also dropped, while for local retail the loss of purchasing power of the Argentine Peso has had an effect on tourism and shopping.
However Gnadt said that funds from the central government, by promoting public works and other benefits have helped to soften the boom-bust cycles in Magallanes region.
Finally of the eleven sectors of Magallanes economy considered, seven fell back; agriculture, fisheries, mining, manufacturing, construction, retail, restaurants and hotels, financial services. Among those which expanded are power, gas, drinking water, house sales, social and community services, while transport and telecommunications remained unchanged.