Brazil unemployment climbs to 8.3% in 2Q; auto industry starting layoffs
Thursday, August 27th 2015 - 04:35 UTC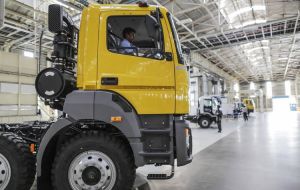 Brazil's unemployment rate rose to 8.3% in the second quarter, according to a release from the Brazilian Institute for Geography and Statistics, IBGE. The ranks of the jobless expanded to 8.4 million people during the April-June period.

While the number of people with jobs held steady at 92.2 million, IBGE said.

The figures are based on data from the National Sample of Households Study, known as PNAD, a new, more rigorous measure of unemployment built on recommendations from the International Labor Organization.

The IBGE continues to release statistics derived from the traditional method, which reflects employment conditions in the country's six largest metropolitan areas: Sao Paulo, Rio de Janeiro, Belo Horizonte, Salvador, Recife and Porto Alegre.

As measured by the traditional method, unemployment was 7.5% in July.

PNAD will become Brazil's benchmark measure of unemployment by the end of this year.

The next jobs' release promises to continue depressing: in effect Germany's Daimler AG is eliminating 1,500 jobs at its Brazilian truck-making division as demand for commercial vehicles in the country shows no sign of recovery.

"Cutting about 13% of its workforce in Brazil became inevitable after industry-wide truck sales in South America's largest economy plunged 44% in the first half of 2015, compounding a drop last year", said Florian Martens, a spokesman at Stuttgart.

"For many months now, there's simply been a dramatic decline in truck orders," he said. "Unfortunately, we don't expect a quick recovery of the market."

The company operates two plants in Brazil that build trucks and buses. Its workforce in Latin American largest economy totaled about 12,000 employees at the end of last year. Daimler also is developing a factory in Brazil to make passenger cars starting in 2016.

Growth in unemployment coincides with austerity measures adopted by the government of President Dilma Rousseff after 2014 ended with the first primary budget deficit in 13 years.

The austerity program, which has yet to be fully approved by Congress, features spending cuts and tax hikes, including an increase in payroll levies. Brazil's economy is expected to shrink by 2% this year, while inflation could reach 9%.