Brazil in recession: worst slowdown in nearly three decades
Sunday, August 30th 2015 - 13:58 UTC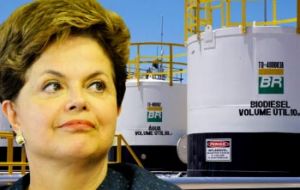 Brazil's economy shrank 1.9% in the second quarter, sinking into a recession that has hammered President Dilma Rousseff's popularity. The quarterly contraction, reported by government statistics agency IBGE on Friday, was bigger than what markets expected and confirms the worst slowdown for Brazil in nearly three decades.
A commodities-fueled economic boom has fizzled since Rousseff took office in 2011, and her stimulus efforts drove up public and private debt without spurring growth.
This year she reversed course, trying to cut government spending and subsidies as the central bank battles inflation. The austerity program has torn apart her governing coalition, but failed to lift business and consumer confidence from record lows.
Investment plunged 8.1% in the second quarter, its eighth straight decline. Household consumption, an economic engine during the boom years, fell 2.1%, the worst drop since 2001, due to rising unemployment, tighter credit and the highest inflation in over a decade. The economy contracted 2.6% from the second quarter last year.
Brazil which was once flush with export revenues because of Chinese demand for iron ore and soybeans, industrial surveys, consumer defaults and online retail sales all show a recession that deepened in recent months.
Financial markets had expected poor growth data after months of grim indicators and the Real dropped 1% against the dollar and the Bovespa stock index was 0.1% lower. The Real has depreciated 25% against the dollar this year and Bovespa has lost 5%.