Brazil's central bank leaves basic interest rate unchanged at 14.25%
Thursday, September 3rd 2015 - 10:29 UTC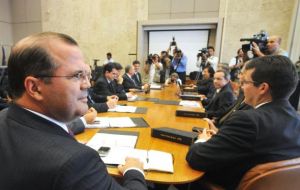 Brazil's central bank halted one of the world's boldest rate-hiking cycles on Wednesday, taking pressure off an economy struggling with recession even amid concerns that a looming budget crisis could stoke inflation.
In a unanimous vote, the central bank's monetary policy committee, known as Copom, kept its benchmark Selic rate at 14.25%, a nine-year high and still the highest among the world's top 10 economies. An overwhelming majority of economists expected policymakers to keep interest rates unchanged after seven consecutive hikes.
While most other major emerging-market economies are gearing up to raise borrowing costs to head off quickening prices, Brazil is ending monetary tightening as its recession proves deeper than even most pessimistic economists had envisioned.
The bank made no changes to its decision statement, signaling again that it will hold borrowing costs for some time to bring down inflation.
"The Committee understands that maintaining the benchmark interest rate at that level, for a sufficiently prolonged period, is needed to ensure that inflation converges to the target by the end of 2016," the bank said in the release with the signature of governor Alexander Tombini.
The deep recession and a drop in inflation expectations for coming years prompted the central bank to end the tightening cycle even though inflation remains near double digits.
Although the downturn is helping to slow inflation as consumption falls, a widening fiscal gap and market turmoil are keeping the central bank under pressure.
President Dilma Rousseff's inability to halt the deterioration of the government's finances is threatening Brazil's investment-grade rating and zapping investors' confidence.