Colombia says its electrical system is ready for the El Niño phenomena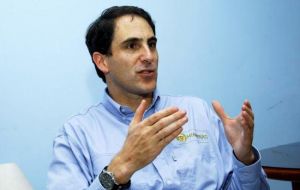 As neighbors Chile and Peru along the Pacific coast of South America, Colombia announced its electrical system is prepared for the El Niño weather phenomena, which may lead to drought and low reserves at hydro-electric facilities, mines and energy minister Tomas Gonzalez said on Wednesday.
Colombia, which generates 70% of its energy at hydro-electric plants, has in the past had to ration electricity because of climate conditions.
"The reservoir levels are at around 70%, we have enough water to generate what Colombia needs," Gonzalez told journalists. "We are prepared."
The El Niño phenomena will extend into the beginning of next year, the country's climate institute has said.
Both Chile and Peru have been also addressing 'emergency situations' practicing with civil defense exercises, ahead of the phenomena which is expected to have its main impact between October and February next year.
Peru even cancelled its participation in the Dakar Rally leg which was to criss-cross the country.