Unpredictable Sunday: outraged Guatemala goes to the polls and is furious with its political system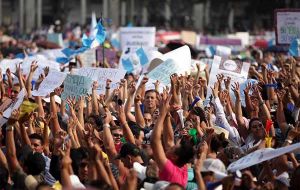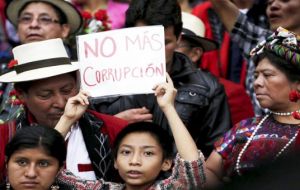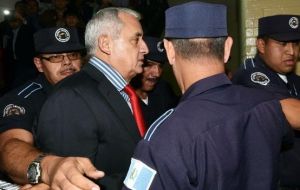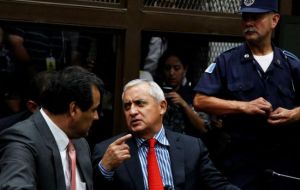 Protesters railed on Friday against Guatemala's disgraced ex-president Otto Perez outside his court hearing on corruption allegations Friday, two days before elections that have been upended by his resignation and jailing.
Hundreds of protesters outraged over a torrent of scandals that engulfed Perez's administration gathered outside the Supreme Court as prosecutors continued detailing their case against the fallen president. Many protesters called for the elections to be postponed until sweeping reforms can be implemented, even as candidates wrapped up their final day of campaigning.
Perez, who spent the night in jail after submitting his resignation to Congress late Wednesday, took the stand to deny involvement in the multi-million-dollar fraud scheme he is accused of masterminding.
Prosecutors say the 64-year-old retired general ran a network of corrupt officials that took bribes from businesses to clear their imports through customs at a fraction of the actual tax rate. The bribes amounted to $3.8 million between May 2014 and April 2015, including $800,000 received by Perez, prosecutors allege.
"Your honor, I would not put my sacrifice and dignity at risk for $800,000 nor for any amount," said Perez, wearing a dark suit and tie.
Defending his integrity, Perez told the court that fugitive Mexican drug lord Joaquin "El Chapo" Guzman had once offered him a bribe "10 times that amount or more" when Perez led the operation that first captured the kingpin in 1993.
Guzman managed to escape eight years later by bribing his guards at a maximum-security prison in Mexico -- a feat he repeated this July after being recaptured in 2014.
Perez vowed to continue defending his innocence, then declined to answer questions from the judge or prosecutors.
Outside, demonstrators -- mostly indigenous Guatemalans -- continued celebrating the conservative leader's downfall after months of unprecedented protests. With Guatemalans increasingly exasperated with politics-as-usual, the long-time frontrunner in the presidential race, right-wing lawyer Manuel Baldizon, has been overtaken by comedian and political outsider Jimmy Morales.
Morales, who rose to fame playing the role of a naive cowboy who accidentally ends up becoming president, has 25% support to 22.9% for Baldizon and 18.4% for former first lady Sandra Torres, according to a poll released Thursday.
If no candidate gets more than 50% of the vote Sunday, the top two will face each other in a run-off on October 25. The winner will be sworn in on January 14.
Until then, the country is in the hands of newly inaugurated President Alejandro Maldonado, who donned the presidential sash Thursday in a hastily organized ceremony.
Maldonado, a 79-year-old former Constitutional Court judge, only became vice president in May, after his predecessor in the post, Roxana Baldetti, resigned over the same scandal that felled Perez.
The accusations have stoked outrage in the Central American country of 15 million people, 53.7% of whom live in poverty, and where the scars are still fresh from a 36-year civil war that ended in 1996.
The scandal was uncovered by investigators from a United Nations commission tasked with fighting high-level graft in Guatemala. They say they found massive evidence that Perez and Baldetti orchestrated a scheme dubbed "La Linea" (The Line), named for a hotline that importers would allegedly call to access a network of corrupt officials.
The UN commission has also blown the lid off separate scandals that led to the arrests of the heads of the central bank and social security administration, and another implicating presidential hopeful Baldizon's running mate in money laundering.
Guatemala's 7.5 million registered voters will also elect their representatives in the 158-member Congress and 338 mayors Sunday.