Brazil confident it can stand 'first period of volatility' if Fed raises rates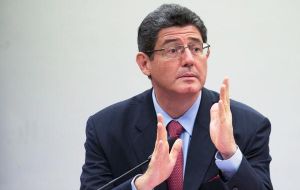 Brazil is well prepared to cope with any market volatility resulting from a U.S. interest rate rise, Finance Minister Joaquim Levy said on Monday. The minister told a meeting in Madrid that Brazil's banks were well capitalized and the country has large foreign exchange reserves.
"That reassures us that even if there is a start of volatility after U.S. interest rate adjustments begin - and there will be volatility, because today the market is less well oiled and we don't do the work we used to do to absorb shocks - in Brazil we are well prepared to confront this first period of volatility," Levy said.
Spain's Economy Minister Luis de Guindos, speaking at the same event, said a U.S. rate increase could produce certain volatility and uncertainty but the U.S. Federal Reserve had done good work in preparing the ground for a rise. The Fed is scheduled to hold a two day meeting this month, 16/17 September.
"I don't think it will have a significant impact (on the Spanish economy)," he said, at the event organized by Spain's El Pais newspaper.
De Guindos said his impression was that the Fed had not yet decided if it would raise rates in October or later. Expectations that the Fed could raise rates as soon as September have been called into question recently because of weakness in the Chinese economy.
Many emerging market economies are concerned that a Fed rate rise would trigger large outflows of capital from emerging economies into dollar-denominated assets, creating market turmoil that would hurt growth.
Brazil's central bank last Wednesday decided to halt its aggressive rate-hiking cycle to relieve an economy struggling with recession, keeping its benchmark rate at 14.25%. Meanwhile its currency, Real, has slid nearly 30% so far this year to its weakest in nearly 13 years.