Guatemala: Cowboy "Neto" leads on promises to clean the town of corruption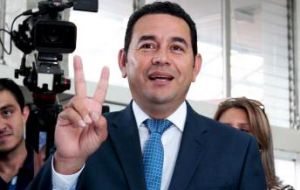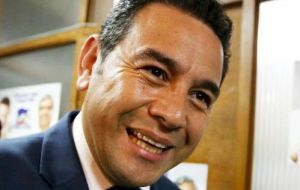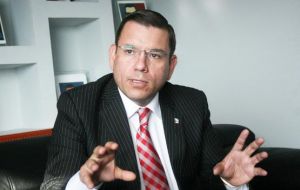 A comedian who played a simpleton cowboy who almost became president emerged Monday as the man to beat in Guatemala's presidential race amid disgust over a corruption scandal that felled the outgoing incumbent.
Political novice Jimmy Morales led the count after Sunday's presidential vote and appeared headed for a runoff against whichever of two more traditional rivals emerges less scathed from the scandal's fallout.
With 97.7% of the ballots counted, Morales had 23.95%, against 19.62% for former first lady Sandra Torres and 19.57% for millionaire businessman Manuel Baldizon.
With no candidate near the 50% necessary to avoid a second round, the election is bound for an October 25 runoff between Morales, who is running for conservative party FCN-Nacion, and either social democrat Torres or Baldizon of the right-wing Democratic Liberty party.
Morales, 46, began the campaign as a long-shot. But the actor and TV host surged to a last-minute lead as Guatemalans punished the political elite for a swirl of scandals, including the one that forced president Otto Perez to resign and landed him in jail.
Morales rose to fame playing the role of "Neto," a hayseed who nearly gets elected president by making a string of empty promises, but ends up dropping out of the race and returning to his hometown.
In real life, the comic ran a light-hearted campaign in his first foray into national politics, cracking jokes at rallies but giving few concrete details on policy plans.
"For 20 years I've made you laugh. I promise that if I become president I won't make you cry," he told voters.
Thousands of Guatemalans had taken to the streets to protest corruption since the scandal broke in April, on a scale never before seen in the impoverished Central American nation.
"The people are tired of more of the same," Morales told reporters after learning of his lead.
Political analyst Cecil de Leon said Morales had emerged as "a political phenomenon, without a past in political parties or public positions."
But Sandino Asturia of the Guatemalan Studies Center warned: "The Jimmy phenomenon is a hollow shell, with no solid party structure."
Baldizon, the long-time frontrunner, meanwhile paid the price after his running mate and six lawmakers from his party were caught up in corruption scandals.
"The main concern for four out of five Guatemalans was to prevent a victory by Baldizon, who personified corruption," said Luis Linares of the Research and Social Studies Association.
Despite concerns that voters' indignation would keep many home, the electoral tribunal reported turnout of 70.4%, which it called a record. It was a dramatic capstone to a tumultuous campaign.
President Perez submitted his resignation just before midnight Wednesday, after Congress stripped him of his immunity and a judge issued a warrant for his arrest.
By Thursday evening, the 64-year-old conservative leader was in jail, and Morales had eclipsed Baldizon in the final opinion poll.
Prosecutors and investigators from a UN commission tasked with fighting high-level graft in Guatemala accuse Perez of orchestrating a scheme that allowed importers to pay bribes to get illegal discounts on their customs duty.
New President Alejandro Maldonado, a former Constitutional Court judge who was hastily sworn in Thursday, will serve until an elected successor is inaugurated on January 14.