Germany willing to take half a million refugees annually over several years
Wednesday, September 9th 2015 - 08:23 UTC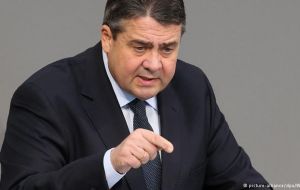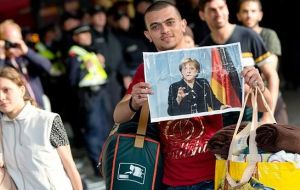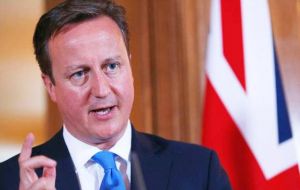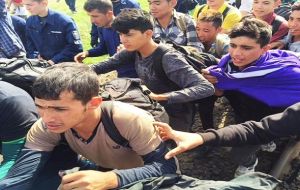 Germany said it could take half a million refugees annually over several years as Greek islands struggled on Tuesday to process a huge backlog of migrants desperate to travel to western Europe. Reflecting deepening concern, the European Union's president warned the EU faced a years-long refugee crisis, while the UN urged countries worldwide to help tackle the problem.
German Chancellor Angela Merkel urged greater flexibility in EU migrant quotas as her deputy, Sigmar Gabriel, said Berlin "could surely deal with something in the order of half a million (refugees) for several years."
Germany, which has previously said it would take in 800,000 asylum-seekers this year, would continue accepting "a greatly disproportionate share" among EU members "because we are an economically strong country," Gabriel said.
But it was unacceptable for the EU to rely on just a few countries, such as Austria, Sweden and Germany, he added, stressing that European policy "needs to change".
On the Greek holiday island of Lesbos, where around 20,000 refugees and migrants have been waiting in squalid conditions to be registered for travel to the mainland, a new processing centre set up overnight was helping to defuse a situation that Athens warned was "on the verge of explosion".
Around 30,000 people are stuck on islands in the Aegean Sea.
Greece's migrant agency said it had asked the EU for emergency medical aid, bedding and over 9.5 million Euros to support reception services on Lesbos, Samos, Kos and Chios. Lesbos mayor Spyros Galinos said the pressure was easing after an additional 140 staff arrived from Athens to handle migrant and refugee registration.
The migrants are desperate to get into northern EU countries that have thrown open their doors, but between them lie several transit countries, some of whom like Hungary are intent on trying to keep them out.
Several hundred migrants broke through police lines at Roszke, on Hungary's southern border with Serbia, local media reported. Further south, hundreds of migrants poured across Macedonia's border with Greece, another bottleneck on the trans-Europe route.
The scenes underscored the task facing authorities from the Mediterranean to the Baltic Sea in handling the influx of people, many of them Syrians fleeing war and misery.
EU president Donald Tusk warned Monday the situation would likely last "for many years to come".
The UN's special representative for migration and development, Peter Sutherland, called on Tuesday on countries around the world to join in the asylum effort, proposing an international conference "where every country is held up to the spotlight."
The remarks touched on a deep east-west division within the EU about how to respond to the situation.
Hungary vowed Tuesday to speed up construction of an anti-migrant fence on its 175-kilometre (110-mile) southern border. The barrier intends to buttress a razor-wire fence that was completed on August 29 yet has failed to stop large numbers of people climbing over or under it.
European Commission chief Jean-Claude Juncker is expected Wednesday to unveil a plan to relocate 120,000 migrants from frontline EU states.
Germany would take more than 31,000 migrants, France 24,000 and Spain almost 15,000. France has already agreed to take the 24,000 over two years while British Prime Minister David Cameron has said Britain can take 20,000 over five years.
New figures released Tuesday by the UN High Commissioner for Refugees (UNHCR) said 381,412 people had arrived in Europe by sea so far this year, including 121,000 who had landed in Italy and 258,365 in Greece.