Brazilian Real falls to its lowest against the dollar since 2002; central bank injected funds
Friday, September 11th 2015 - 09:41 UTC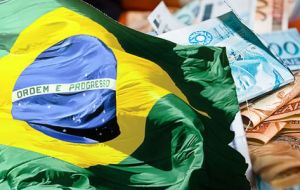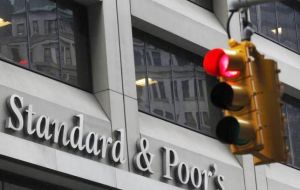 A day after Standard & Poor's slashed Brazil's credit rating to junk, the Brazilian Real lost close to 2% by the end of the day to 3.865 per dollar—its weakest level since 2002. In an effort to stem the decline, Brazil's central bank injected $1.5 billion into the financial system Thursday.
The Real, among the worst performing currencies in the world against the U.S. dollar, has shed essentially all the gains of the long commodity boom that lifted Brazil's economy and made it a darling for global investors.
The Standard & Poor's downgrade late Wednesday was the latest stark reminder of Brazil's dramatic economic downturn in the face of slowing growth from chief trade partner China, a key buyer of Brazil's iron ore and other resources.
When Brazil achieved an investment-grade credit rating from the ratings agency in 2008, Brazilian leaders hailed the event as proof that the long volatile South American nation was graduating to higher standards of stability and prosperity.
But it was not to be. Instead, this week's credit rating downgrade points to fundamental obstacles to growth that some investors overlooked as a windfall of rising commodity prices spurred global frenzy for investing in emerging markets. Brazil's benchmark stock index is down 20% over the past year and has dropped nearly twice that much since reaching a high in 2008.
Brazil's economy now appears to hang on the whims of a chaotic political system that relies on backroom favor-trading among a patchwork of political parties that have little in common beyond the desire to increase their power bases.
Analysts say that culture of dividing power helped spawn a plus $2-billion kickback scheme at the state-owned oil company Petrobras. Dozens of corporate executives and politicians from the ruling Workers' Party and its allies have been jailed. On Thursday Standard & Poor's also lowered Petrobras's credit rating two notches to junk status.
Standard & Poor's lead sovereign ratings official said a big reason it cut Brazil's credit rating is that the government has presented a 2016 budget that runs a deficit even before interest payments—despite vows from its officials to close up spending shortfalls and give the government more of a cushion to pay off its rising debt.
"The budget that was tabled last week, in our view, signaled a change," Lisa Schineller, managing director on the sovereign ratings team at S&P. "It was a change in our view of likelihood of cohesion, moving forward with a solid plan."
Brazil's budget deficit in the year ended July 31 approached a dizzying 9% of GDP, nearly triple the shortfall in 2013.
Ratings firm Standard & Poor's cut Brazil's debt rating to junk-grade BB+. The other two main ratings agencies, Fitch and Moody's Investors Service, both still rate Brazil as an investment-grade credit. That is important because some large investment funds are required to sell securities if two agencies rate it junk.