Catholic church exposes 'true reality' of infant malnutrition in Argentina
Monday, September 14th 2015 - 10:15 UTC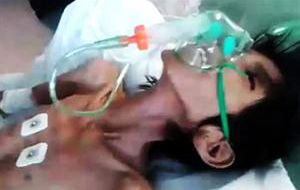 The Catholic church warned of the "true reality" of infant malnutrition and structural poverty which does 'not yield' in Argentina, on launching the traditional funds' collection "More for Less" which took place over the weekend under the motto "Let's give more so that less suffer".
The warning from the Church follows the news last week of the death of Oscar Sanchez, a 14 year old child who lived in El Chaco, north of Argentina, and belonging to one of the country's main aboriginal groupings Qom.
Oscar at the moment of death weighed 11 kilos.
"In this year so special, in which we are faced with the tremendous reality of knowing that so many children in our country die of malnutrition, is that we need to increase our sensitivity", said Monsignor Jose Slaby from Esquel.
Likewise Humahuaca bishop and president of the event's organizing committee, Monsignor Pedro Olmedo Rivero, called on Argentines to acknowledge that in Argentina persist "many regions, much forgotten, much hidden and with a hard structural poverty".
"Unfortunately structural poverty did not yield. Even after a decade quite prosperous in resources, one can witness that structural poverty continues and does not yield", warned Monsignor Damián Bitar, Obertá bishop.
In a message to motivate Argentines to be generous and help raise money for the cause, Pope Francis called on his country people not to be indifferent to the sufferings of the poor and live feeling the help those most in need must be given.
Francis also warned about the "spread of the indifference culture and selfish individualism" and called on "for an effort so that you never get accustomed to the sufferings of your brothers and sisters".
The solidarity initiative is organized by the Episcopal Aid Committee to the Needy Regions and the money raised is distributed among 25 dioceses in support of projects to build self made homes, micro-businesses and community dining halls.