Cyanide spill in Argentine Andean mine triggers strong protests from local residents
Wednesday, September 16th 2015 - 08:16 UTC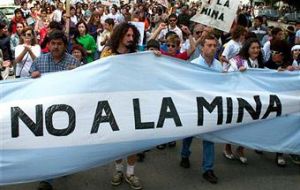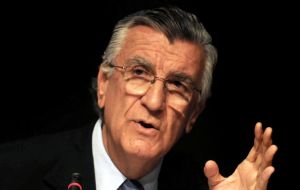 Residents of a town in the Argentine northwestern province of San Juan took to the streets in protest after an industrial malfunction caused a pipe carrying potentially lethal cyanide to the nearby Veladero gold mine to fracture and spill an amount of its contents in the area on Sunday. The news reached national level on Monday.
The mine served by the faulty pipe is owned and administered by Barrick, a large Canadian multinational operating in Argentina, and is one of the largest gold mines in the country. The company denied that there was any contamination to the local area or any risk posed to inhabitants and insisted that the incident had been brought swiftly under control.
"The leak was detected almost immediately and the valve shut down. Production was halted to prevent pumping more of the solution," a company official told Reuters. However residents of Jáchal also expressed concern that the town's water supply would be affected by the dangerous chemical spill, though this was also refuted by Barrick.
"There was no contamination in the water running in the river basin near Jáchal. All measures were taken to resolve the contingency," the company said as they sought to dispel local unease over the industrial accident. Local authorities also issued statements alongside Barrick which said that the situation posed no danger to residents in the area.
"An intensive monitoring of water to clear any doubts about contamination is being performed," said Provincial Mining Minister Felipe Saavedra. "Samples (of river water) up to 30 kilometres downstream are being taken every two hours," he added, stating that the local authorities were "conducting surveys to start a summary that would surely result in a penalty," if misconduct was believed to have taken place.
Likewise Governor of San Juan province and a close ally of president Cristina Fernandez, José Luis Gioja said that an investigation into the incident was pending and that, were any discrepancies in Barrick's actions found, "there would be sanctions," he said.
"The company statement is being verified by our Mining Ministry officials to assure people that there are no complications for those working in the mine, who number almost 2,000 people including direct employees and contractors, let alone for the inhabitants of Jáchal," he added.
Jáchal is a remote Andean town located over 4,000 metres above sea level and 350 kilometres from the provincial capital San Juan. The Veladero Gold Mine, like many worldwide, employs the effective but controversial use of cyanide processing or cyanidation, whereby a solution of the chemical — very poisonous to humans — is mixed and fuses with the gold contained within the raw ore extracted by the initial mining process.
Despite widespread use of the technique across the world, it has been banned in Chubut province, Argentina, along with a number of US states and European countries over fears of its potential dangers.