Guyana asks Google to remove Spanish names from Essequibo region which Venezuela claims
Wednesday, September 16th 2015 - 08:57 UTC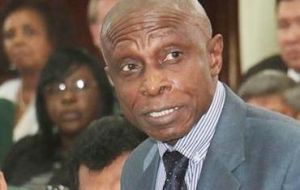 Unasur (Union of South American Nations) member Guyana is asking Google to remove certain street names near its disputed shared border with Venezuela, Guyana's foreign minister announced. The names, in Spanish, seem to suggest they are part of Venezuela, Carl Greenidge said.
"We have to get technical advice to get Google to remedy it. We have to see how Google can be made to be responsible. Maybe they are not aware," he told reporters.
Greenidge noted that Google Maps has labeled a major road in the disputed coastal region of Essequibo Av. 100 Bolivar rather than Essequibo Coast Public Road or Anna Regina Public Road, as Guyanese call it. A perpendicular road was labeled Calle 100 Guyana.
Streets have English names in Guyana, a former British colony, as opposed to those in neighboring Spanish-speaking Venezuela. Greenidge said Guyana would pursue a court order if necessary.
"It has implications for more than Guyana because if a country's leadership can wake up one morning and decide that their borders run from Alaska to the Cape of Good Hope, for example, and they can simply just tell Google this and...those people will implement it, then it's a recipe for chaos," he said.
Venezuela has long had claims on the Essequibo region. The Essequibo region has long been denoted on Venezuelan maps as a "reclamation zone". The region covers 160.000 sq kilometers, is rich in natural resources and is equivalent to two thirds of Guyana's territory.
Earlier this year, President Nicolas Maduro issued decrees extending Venezuelan maritime boundaries to include the seas off the Essequibo region, which include oil reserves currently being explored by US oil giant ExxonMobil.
The Essequibo makes up two thirds of Guyana's territory, which is South America's only English-speaking nation. Guyana maintains that valid land borders were set in 1899 by an arbitration court decision, a decision Venezuela has never recognized.
Last month, Maduro met with UN Secretary General Ban Ki-moon to seek UN support for mediation. But Guyana claims the long-standing UN-led mediation process meant to resolve the dispute has yielded little results and that its neighbour is using the delays to its advantage.
Guyana's President David Granger instead called for a definitive legal settlement of the dispute in the Hague. Ban Ki moon has since dispatched a fact-finding mission to Caracas and Georgetown.
Many in Guyana, a small nation of 800,000 people sandwiched between Venezuela, Brazil and Suriname on the shoulder of South America, feel their larger neighbor is seeking to lay hands on its newfound oil wealth.
The Venezuelan leader's critics counter Maduro using the border dispute -as well as the latest with Colombia- to distract voters from high inflation, a severe recession and rampant crime, ahead of December's legislative election.
Critics also underline that the ExxonMobil successful operation off the coast of Guyana includes a Chinese oil company, and Beijing has been loaning Venezuela massive funds (over 50bn dollars) and is virtually the only lender the country has. No wonder the dispute with Guyana has toned down.