Two close associates of Lula da Silva will face trial on the Petrobras scandal
Wednesday, September 16th 2015 - 09:34 UTC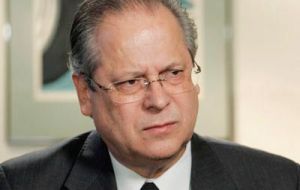 Two leading figures associated with Brazil's ruling Workers' Party will face trial over their alleged roles in the Petrobras graft scandal, authorities confirmed Tuesday.A judge has accepted to take on the case brought against Jose Dirceu, a former chief of staff under ex-president Lula da Silva (2003-2010), and who prosecutors say masterminded the bribes and embezzlement scheme skimming huge sums from the state oil giant.
A co-founder of the leftist Workers' Party, he allegedly took $3.1 million in bribes, some of which went toward buying a Cessna executive jet and property. He has been detained since August 3.
Also to face trial is Joao Vaccari Neto, a former treasurer of the Workers' Party who is alleged to have been responsible for depositing bribes into Workers' Party coffers.
The trials will be only two among dozens of cases being prosecuted in the vast probe dubbed Operation Car Wash. However, they bring the mega scandal ever closer to the once enormously popular president Lula and his successor, current President Dilma Rousseff.
Neither of them has been charged, but the corruption revelations have caused havoc at Petrobras and helped damage Brazil's already fading economy, adding to Rousseff's growing list of problems in her second term. Rousseff chaired the board at Petrobras between 2003 and 2010, when much of the alleged corruption was flourishing.
Petrobras estimates it lost about $2 billion dollars in the scheme.