Pope will celebrate last mass in Cuba on Tuesday before flying to the US
Tuesday, September 22nd 2015 - 08:07 UTC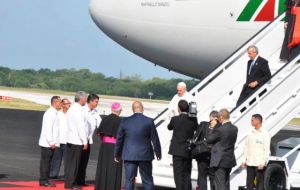 Pope Francis has celebrated mass in front of thousands of people in the eastern Cuban city of Holguin. During his homily, he paid tribute to the "efforts" and "sacrifices" the Roman Catholic Church has made in Cuba.
Holguin is considered the cradle of Catholicism on the communist island. It is also in the area where Cuban President Raul Castro and his brother Fidel were brought up. They were raised as Catholics but became atheists and led the Socialist Revolution in 1959.
"I am aware of the efforts and I am aware of the sacrifices the Church in Cuba has carried out to take to all, even in the most remote locations, the word and the presence of Christ," said Pope Francis.
He also renewed his calls for people to embrace change and challenge selfish and materialist principles in society.
Jesus Christ "invites us slowly to overcome our preconceptions and our reluctance to think that others, much less ourselves, can change," the Pope said.
After mass in Holguin, Pope Francis travelled further east to Cuba's second largest city, Santiago de Cuba. It was there that Fidel Castro announced on 1 January 1959 that his forces had toppled the United States-backed government of Fulgencio Batista.
Residents of Santiago received Pope Francis with the enthusiastic fervor that has followed him throughout Cuba. The pope is three days into his four-day venture through Cuba, after which he will head to the USA on Tuesday for visits to Washington, New York City and Philadelphia.
Throughout Cuba, people have been as interested in him for the role he played in helping to re-establish ties between the United States and Cuba as to the spiritual messages he delivers. The pope sent personal letters to Presidents Obama and Raúl Castro, urging them to end their longtime Cold War enmity and offering the Vatican as a neutral meeting place. Those efforts culminated with the reopening of embassies in each country this year.
Monday night, Francis visited a shrine in nearby El Cobre dedicated to Our Lady of Charity, the patron saint of Cuba, capping another long, busy day for the 78-year-old pontiff. He's scheduled to lead a Mass at the shrine Tuesday morning and visit the main cathedral in Santiago de Cuba before flying to Joint Base Andrews to begin his U.S. visit.
Two unscripted speeches on Sunday — one inside Havana Cathedral and another to students in front of an adjoining cultural center — drew the most animated responses. They displayed the spontaneity and down-to-earth quality that has made Francis one of the most popular popes in recent history.
In his speech to students, the pontiff urged the gathered youth to "dream big" and join together rather than venture alone when striving toward their goals.
In closing, he asked the youth to pray for him. "And if you're not a believer, at least wish upon me good things," he said.
A Cuban opposition group, Ladies in White, reported that nearly two dozen members were blocked by Cuban security agents from attending the pope's Sunday Mass in Havana, and two other dissidents said they were detained after the Vatican invited them to the pope's vespers service at Havana's cathedral.
The Vatican spokesman, Federico Lombardi, confirmed that dissidents were invited to events to receive a greeting from the pope, but he didn't know why they didn't arrive.
On Sunday Francis met Fidel Castro, presenting the former Cuban revolutionary leader with several books, CDs of homilies and two encyclicals, including his famous Laudato Si, which called for greater social focus on climate change.