Brazil and UK joint research of critical elements in the deep northeast Atlantic
Thursday, September 24th 2015 - 07:41 UTC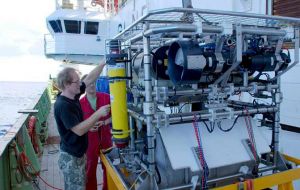 Scientists from the U.K. and Brazil will work together to study the formation of ocean minerals essential for new technology, particularly environmental technology such as photovoltaic cells.
MarineE-tech is a £4.2 million research program funded by the U.K.'s NERC and Brazil's FAPESP that will assess deep ocean ferromanganese deposits, a major resource of elements that include cobalt, tellurium and the rare earths used in e-technologies.
Leading the program is the National Oceanography Centre's Dr. Bramley Murton, who said, "There is a high demand for e-tech elements but their supply is scarce. They are particularly important in the development of new eco-environment technologies. Our MarinE-tech program will study how ferromanganese deposits are formed in the deep ocean and what controls their composition."
"A research expedition is planned for next year to the northeast Atlantic to discover what controls the richness of these deep-sea deposits," Dr. Murton said.
In addition to the research, the team will look at novel exploration methods and assessing any potential disturbance of sensitive marine environments. This will help to establish a best practice and regulatory framework.
MarinE-tech is collaboration between the U.K.'s National Oceanography Centre and the Instituto Oceanográfico da Universidade de São Paulo (IO-USP). Dr. Frederico Brandini is the director of IO-USP and a principal research scientist.
Dr. Murton continued, "The study will also explore sustainability issues, especially those deposits in the territories of small nation states with developing economies. We also intend to assist with developing scientific capability in the South Pacific Islands."
The partnership spans industry, academia and policy makers and includes the University of San Paulo (Brazil), the University of Bath, the British Geological Survey, SOPAC and the South Pacific Island Communities, the United Nations' International Seabed Authority, HR Wallingford, Gardline Ltd, and Soil Machines Division Ltd, Gateshead.
There will also be opportunities for students from NOC and IO-USP to participate in an exchange program.