Polar Tour Operators hold first Antarctic/Arctic field guide conference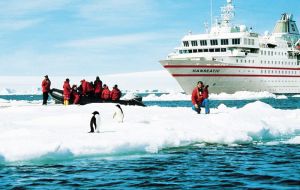 The poles are combining forces in Toronto next week at a unique conference for polar field staff organized by the International Association of Antarctica Tour Operators (IAATO) in collaboration with its sister organization in the Arctic, the Association of Arctic Expedition Cruise Operators (AECO).
The conference, which runs from 27-29 September, will provide a lively and interactive forum for sharing knowledge and best practice in polar guiding.
This is the first time that a field staff conference has focused on the challenges facing staff and member operators working in both Antarctica and the Arctic. Around the central mission of practicing safe and environmentally responsible travel in both regions, the agenda will focus on education, operational procedures, safety and risk management, conservation, heritage, communications and science support.
Susan Adie, Chair of IAATO's Field Operations Committee and Expedition Operations Manager for Toronto based, G Adventures said, 'Field staff are at the front line of our polar operations so not only are they often the first to identify issues, opportunities and future challenges, but can offer potential solutions to those as well. The outcomes from a conference like this will benefit the industry tremendously across all sectors.'
The series of talks and workshops has also attracted representatives from other organizations who work closely with AECO and IAATO including government agencies, science institutes and conservation organizations such as the WWF, Environment Canada, the Antarctic Southern Ocean Coalition and the UK Antarctic Heritage Trust. IAATO and AECO's current contributions to citizen science will be presented and future collaborations discussed.
Bill Davis, AECO Executive Committee member and VP Operations for Quark Expeditions said, 'In addition to covering the day to day opportunities and challenges of running of polar operations, the conference will also focus on how tourism is part of a wider global solution to protecting these great wildernesses for future generations.'
Canadian based IAATO/AECO members, G Adventures, Quark Expeditions, One Ocean Expeditions and Students on Ice (The Maple Leaf Group) are hosting the conference dinner on Monday 28th September.
IAATO is a member organization founded in 1991 to advocate, promote and practice safe and environmentally responsible private-sector travel to the Antarctic. IAATO currently has 112 members. IAATO Members work together to develop, adopt and implement operational standards that mitigate potential environmental impacts. Numerous guidelines have been adopted over the last 25 years that have proven to be successful methods in avoiding such impacts.
AECO is a member organization founded in 2003 to ensure that expedition cruises and tourism in the Arctic is carried out with the utmost consideration for the Arctic natural environment, local cultures and cultural remains, as well as for safety hazards at sea and on land. The organization has 50 international members, 26 of which operate approximately 32 vessels in the Arctic. AECO's backbone is a number of guidelines that members and their guest are obliged to follow to ensure environmentally friendly, safe and considerate behavior.