Francis leaves Philadelphia with "a heart full of gratitude and hope"
Monday, September 28th 2015 - 11:15 UTC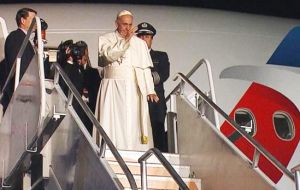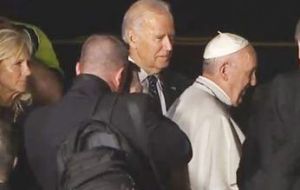 Pope Francis left Philadelphia and is headed back to Rome on Sunday night, bringing his historic trip to the U.S. and Cuba to a close. The pope's airport farewell included appearances from Vice President Joe Biden, Philadelphia Mayor Michael Nutter and Pennsylvania Gov. Tom Wolf, as well as a performance by a high school band.
After Francis boarded the American Airlines plane, he gave one last wave to the American people through the window.
In his final speech at the airport, Francis thanked all those who worked to prepare for his visit. He said he was leaving the U.S. with "a heart full of gratitude and hope."
Francis' plane took off after a packed Sunday in the City of Brotherly Love. In the morning, he met with bishops, prisoners and victims of clerical sex abuse.
In the afternoon, Francis stopped by Saint Joseph's University, then held an outdoor Mass on Philadelphia's Benjamin Franklin Parkway, concluding the World Meeting of Families Festival
Francis' trip to the U.S. began in Washington D.C., where he visited the White House and gave a speech to Congress. Francis then flew to New York, where he addressed the United Nations, visited the 9/11 Memorial and held Mass at Madison Square Garden.
In Philadelphia, Francis stood at Independence Hall, where he gave a passionate speech on religious freedom, immigration and tolerance.