Record soy and corn crops forecasted in South America because of stronger dollar and El Niño
Monday, September 28th 2015 - 10:45 UTC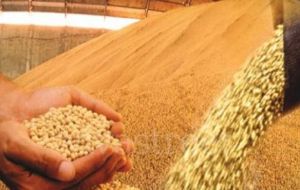 A combination of weather, currency and political factors should result in another huge South American crop of corn and soybeans, further depressing grain and oilseed prices, says an analyst, according to a report from Canada's The Western Producer.

The report is based mainly on Pedro Dejneka, president of AGR Brasil, affiliate of AgResource Company, who is forecasting a record 173 million tons of South American soybean production and a sizeable 110 million tons corn crop in 2015-16.

Dejneka believes there is a good chance the soybean crop could be much bigger than that because growers produced 171 million tons last year under challenging conditions, topping the previous record by 17 million tons. 

In Brazil acres are expected to be up this year, and seeding conditions are vastly improved. If the region produces a soybean crop of 170 million tons or more, prices have nowhere to go but down.

There are also rumblings that U.S. farmers intend to plant more soybeans next spring, and if that happens, prices could be pressured further.

As for corn, Dejnekea expects prices will not drop as dramatically, but it is possible farmers could be looking at prices in the $3.30 to $3.50 per bushel range. December corn was at $4.86 on Sept. 18.

Lower soybean and corn prices would be bearish for most other grains and oilseeds.

El Niño has delivered good seeding conditions for the 2015-16 crop in South America.
"So far it looks like we're having a much better start to the planting season than we had last year, when it was pretty dry up until mid-October," said Dejneka.

"History has shown that during El Niño years, you have either record or near record (soybean) yields in South America."

When El Niño is active in the November to April period it has triggered above-trend South American corn yields in seven of 10 years since 1975. The last El Niño in 2010 resulted in corn yields that were 14% higher than the previous record.

Dejneka said planting is off to a good start in the central part of northern Brazil, where most of the country's soybeans are grown, and there is rain in the forecast. 

It has been soggy in southern Brazil, which is another big production area, but farmers don't typically start planting there until the beginning of November, so there is plenty of time for the ground to dry up for seeding.

He is forecasting a four to five percent increase in soybean acreage even with falling Chicago soybean futures. That's because the Brazilian real has depreciated 40% against the U.S. dollar this year. "The currency is making Brazil very competitive," said Dejneka.

Brazil has been stealing export demand from the United States and other regions, and growers are eager to plant more of the crop.

Brazil has two corn crops. The one it plants at the same time as soybeans is expected to fall five to 10%, but it is the larger winter corn crop that really matters, and that is anyone's guess.

"This last few years they've planted outside of the ideal window and with a little less technology and got record yields, so the farmers are really finding that winter is the way to go with corn," said Dejneka.

He expected 98 million tons of soybean production and 82 million tons of corn in Brazil, which is slightly higher than the U.S. Department of Agriculture's estimates. Other analysts say Brazil's soybean crop could top 100 million tons for the first time.
Dejneka's soybean export number of 52 million tons is below the USDA's 54.5 million ton forecast, but his corn export estimate of 32 million tons is much higher than the USDA's forecast of 24 million tons.

Argentina is also expected to increase soybean plantings when they start seeding in late November. He is forecasting 61 million tons of production, which is higher than the USDA's 57 million ton estimate. 

However Argentina's "corn is going to be a little bit of a wild card," said Dejneka. "I'm hearing a lot of talk that they're going to decrease their corn seeding considerably this year."

He agreed with the USDA's estimate of 25 million tons of corn production.

Dejneka wouldn't guess the size of Argentina's corn and soybean export programs because it will depend on who wins the general election Oct. 25. "If they have a pro-market victor, you could see Argentina flood the market with product and really go in hard," he said.

USDA is forecasting 9.75 million tons of soybean exports and 15.5 million tons of corn exports from Argentina.

Paraguay is the other big player in South America's soybean sector and according to Dejneka, "Paraguay in my opinion is going to have a record year this year".
Growers started seeding in late August and the country has received plenty of rain. He is forecasting 10 million tons of production, which is higher than the USDA estimate of 8.8 million and is forecasting 4.6 million tons of exports.