Falklands: Cameron calls on Caribbean islands to support Islands right to self determination
Thursday, October 1st 2015 - 08:13 UTC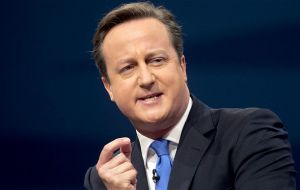 British Prime Minister David Cameron has urged Caribbean countries to stop giving support to Argentine sovereignty claims over the Falkland Islands He told the Jamaican parliament it was time to "stand up for the rights of small islands" to self-determination.
The UK is unhappy that Jamaica and others have supported the position of Buenos Aires in regional groupings and at the United Nations, mainly the Decolonization Committee or C24.
PM Cameron raised the issue with his Jamaican counterpart Portia Simpson Miller when they met for talks at her official residence in Kingston.
Addressing the parliament at the end of a short visit, Mr. Cameron hailed the "shared values" of the UK and Caribbean nations, including democracy, human rights and "a rules-based international system".
"And standing up for the rights of small islands, including the Falklands, to enjoy the self-determination that has been so hard won in the Caribbean," he said.
Britain maintains that sovereignty has been well-established, including through a recent referendum that found Falkland Islanders were overwhelmingly in favor of remaining a UK territory.
Furthermore, UK has said that there will be no change in the current Falklands' status, unless the Islanders so wish, and any future talks with Argentina must be trilateral, that is include representatives from the elected government of the Falklands.