Argentine Catholic church calls for elections to be held with 'transparency'
Friday, October 2nd 2015 - 06:24 UTC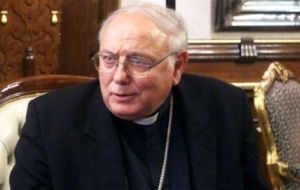 The Argentine Catholic Church called for the upcoming presidential elections on 25 October to be held with "transparency" and urged candidates to present "their proposals and ideas with clarity" and regretted a climate "which debilitates the credibility of persons and institutions".
A document named "Elections, a service to the common good" and released by the Argentine Episcopal Conference, headed by Santa Fe province Archbishop Monsignor José María Arancedo, said that "unfortunately we have attended an atmosphere of insults, suspicions and accusations which debilitate the credibility of people and institutions." It added "we must mend an attitude of respect, sincere dialogue and committed participation."
"A democracy without values or examples weakens. Thus no efforts should be spared to improve procedures, ensure transparency and avoid all kinds of suspicions which end causing mistrust and deepen divisions among Argentines", said the statement.
"The State with its different powers must create objective conditions to assure a transparent development, providing guarantees to the electoral action," the paper added.
"No sign of violence or intolerance should shadow the election and at the same time we expect noble attitudes to acknowledge and respect the legitimate and sovereign will of the people".
"Citizens, in the exercise of our freedom and rights, must know and distinguish the proposals that best fit our principles and convictions, and also the aptitude and coherence of people who seek our vote," it concluded.
Three main candidates are competing for the presidency, incumbent Daniel Scioli, who is leading in the opinion polls, Mauricio Macri the main opposition hopeful and Sergio Massa, who could end as king maker if on October 25, the winner does not obtain 45% of ballots or 40% plus a ten-point difference over his runner up.
If that is the case a runoff will take place a month later on 22 November.