Caricom fully supports Guyana's 'territorial integrity' and insists the Caribbean is Zone of Peace
Friday, October 2nd 2015 - 05:20 UTC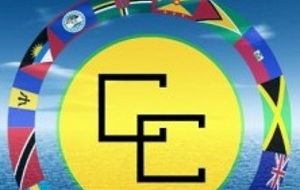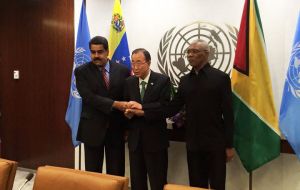 Caribbean Community and Common Market (CARICOM) Foreign Ministers have welcomed Venezuela's decision to receive a United Nations (UN) technical team which will provide recommendations to the UN Secretary-General on the way forward to a full and final solution to its territorial dispute with Guyana. And they say they fully support Guyana's "territorial integrity".
CARICOM's Council for Foreign Ministers (COFCOR) met on the sidelines of this week's 70th Session of the United Nations General Assembly in New York, and was briefed by Guyana's Vice-President and Minister of Foreign Affairs Carl Greenidge on the recent developments with respect to the territorial controversy with Venezuela.
The ministers noted said the decision by President Nicolás Maduro to receive the UN team in the shortest possible time would hasten the efforts aimed at bringing that controversy to an early end.
"The ministers underscored the need for the Caribbean region to be maintained as a Zone of Peace . . . The meeting was especially pleased at the decision of the government of Venezuela to receive, within the shortest possible time, the technical team from the UN Secretariat which is conducting a desk review in order to provide recommendations to the Secretary General on the way forward in the search for a full and final solution to the Guyana/Venezuela territorial controversy regarding the validity of the 1899 Arbitral Award," a COFCOR statement said, noting that the decision would hasten the efforts aimed at bringing that controversy to an early end.
The COFCOR members also welcomed Sunday's meeting chaired by UN Secretary-General Ban Ki-Moon at which Maduro and his Guyanese counterpart David Granger discussed their positions.
During that meeting, Maduro agreed to restore Venezuela's ambassador to Guyana and to grant agreement to the Ambassador Designate of Guyana to Venezuela.
COFCOR said that decision would set a firm basis for the return of full-fledged diplomatic relations between the two countries.
The meeting had been requested by Maduro who said he wanted to discuss the way forward on the border controversy. Venezuela has been laying claim to the vast mineral-rich area of jungle west of the Essequibo River, which accounts for about 40% of Guyana's territory, since the 19th century.
Guyana says that after agreeing to relinquish the Essequibo following a ruling by an international tribunal in 1899, Venezuela backtracked on the decision. Caracas insists the 1899 ruling was unfair and the territory is still in dispute.
Earlier this year, Maduro also extended Venezuela's maritime claims after Exxon Mobil announced it had made a significant oil discovery in Guyana's territorial waters.