Mercosur and EU analyze 'level of ambition' of their trade proposals
Friday, October 2nd 2015 - 05:58 UTC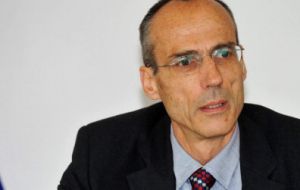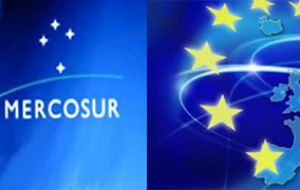 Technical delegates from Mercosur and the European Union are holding a round of talks in Asunción to consider 'levels of ambition' for the coming exchange of tariff proposals with the purpose of reaching a much delayed free trade agreement, said Paraguayan Deputy Economic Relations minister, Rigoberto Gauto.
The two-day talks are scheduled to end on Friday and on the EU side are headed by Rupert Schlegelmilch, who is Director of Services and Investment, Intellectual Property and Public Procurement at the European Trade Department.
During the two days there will be an exchange of data from both blocks so that the different ministers and advisors can later assess is there is a sufficient "level of ambition" as to justify a formal exchange which would then take place in November.
"If all works as planned we should be reaching a successful end to trade negotiations in the coming year" added Gauto.
The talks are taking place in Asunción because during this half year Paraguay holds the chair of Mercosur.
Despite the willingness from both sides to reach an agreement, prospects are not that easy since on the Mercosur side, Argentina is reluctant to open its domestic market and imperil jobs, while on the EU side, several members are suspicious of an inflow of agriculture produce, when they are having trouble with their own farmers.