Umpqua killer: interest in high-profile shootings, angry at not having a girlfriend and bitter at the world
Saturday, October 3rd 2015 - 07:17 UTC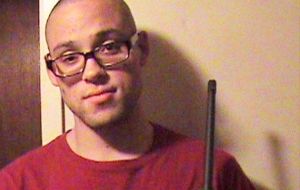 Christopher Harper-Mercer was withdrawn and quiet as he grew up in southern California, spending most of his time indoors at his mother's apartment and deflecting neighbors when they asked him how he was doing, or why he always wore the same outfit of combat boots and green Army pants. But there was one subject that got him to open up: guns.
Mr. Harper-Mercer collected handguns and rifles, and he regularly went to a shooting range with his mother, said neighbors in Torrance, Calif., where the two lived until moving to Oregon in 2013. At a barbecue shortly before they left, Mr. Harper-Mercer spent hours talking with a next-door neighbor about guns and how he and his mother were excited to leave Los Angeles and get a fresh start.
"When we talked about guns and hunting, he was real open about it," said the neighbor, Louie Flores, 32. "But anything about what was going on in his life, he really didn't say too much at all."
But two years after that fresh start, the authorities say, Mr. Harper-Mercer, 26, carried out the worst shooting rampage in this state's history at Umpqua Community College on Thursday morning, killing nine people in the writing class where he was enrolled and wounding others. He was armed with six guns, a flak jacket and spare ammunition magazines, suggesting he expected a long siege. He had seven more guns at his apartment, officials said.
For investigators searching for his path to mass murder, he left behind a typewritten manifesto at the scene and a string of online postings that showed he had become increasingly interested in other high-profile shootings, angry at not having a girlfriend and bitter at a world that he believed was working against him.
Mr. Harper-Mercer appeared to have a particular animus against organized religion, and some survivors' families have said he asked the victims whether they were Christians before shooting them.
Just this week, on Tuesday, using the handle lithium_love, he commented on a post titled "How many girlfriends have you had?" by saying "0. Never had anyone." When pressed further by another user, he responded "Well, it means I've never been with anyone, no woman nor man (nor dog or animal or any other)." Then, on Wednesday, responding to a comment that he "must be saving himself for someone special," he said, "Involuntarily so" It was a day before the killings.
"He did not like his lot in life, and it seemed like nothing was going right for him," a law enforcement official said, describing the writings found at the crime scene. "It's clear he was in a very bad state of mind."
He retreated to online message boards to express his thoughts about commercialism, other shootings and the infamy that accompanied the gunmen who carried them out. On a blog post linked to Mr. Harper-Mercer's email address, an Aug. 31 entry expresses sympathy for Vester Lee Flanagan II, a dismissed television reporter who killed two former colleagues during a live broadcast in Roanoke, Va.: "I have noticed that people like him are all alone and unknown, yet when they spill a little blood, the whole world knows who they are."
The entry continues, "Seems the more people you kill, the more you're in the limelight."
After his parents divorced when he was about 16, he lived with his mother, Laurel Harper, a nurse who fiercely protected him from, among other things, the neighborhood sounds of loud children and barking dogs. Once, neighbors said, she went door to door with a petition to get the landlord to exterminate cockroaches in her apartment, saying they bothered her son.
"She said, 'My son is dealing with some mental issues, and the roaches are really irritating him,' " Julia Winstead, 55, said. "She said they were going to go stay in a motel. Until that time, I didn't know she had a son."
He was listed as a 2009 graduate of the Switzer Learning Center in Torrance, a private school for students with learning disabilities, emotional issues and other special-education needs. Officials from the school declined to comment on Friday. Mr. Harper-Mercer joined the Army for a month in 2008 but was discharged before finishing basic training.
Rosario Lucumi, 51, rode the same bus in Torrance as the young man when she went to work. She said he always wore earphones and listened to music on the rides. She said he and his mother lived for less than a year in a small one-bedroom apartment in Torrance. "They were always together," she said.
His parents struggled financially over the years, filing for bankruptcy in 1992, and his father, Ian Mercer, filed again in 2002. California records show that Ms. Harper had been a licensed vocational nurse. She is now a licensed practical nurse in Oregon. She apparently contributed to online forums dealing with health issues. In one exchange, a writer who appeared to be Ms. Harper offered assistance to the mother of a child with Asperger's syndrome, saying, "I'm a nurse and also have an Aspergers kid."
Mr. Harper-Mercer appeared to have sought community on the Internet, leaving hints behind of his passions, his loneliness, his likes and dislikes. A picture of him holding a rifle appeared on a MySpace page with a post expressing a deep interest in the Irish Republican Army. It included footage from the conflict in Northern Ireland set to "The Men Behind the Wire," an Irish Republican song, and several pictures of gunmen in black balaclavas.
A dating profile published more than three months ago with his email address on the website Spiritual Passions, and featuring photos of Mr. Harper-Mercer, appeared to broaden the portrait. "Looking for someone who shares my beliefs, and is similar to me," it said. It said he enjoyed horror movies, and under hobbies, it listed "killing zombies" along with the "Internet" and other pursuits.
The profile described Mr. Harper-Mercer as "Not Religious, Not Religious, but Spiritual," and it said he belonged to a group called "Doesn't Like Organized Religion."
On a file-sharing forum where illicit content is often shared, blog posts linked to his email address expressed sympathy for Mr. Flanagan, who killed two former co-workers in August.
"People like him have nothing left to live for, and the only thing left to do is lash out at a society that has abandoned them," the user wrote days after the Roanoke shooting. "His family described him as alone, no partner/lover. A victim not only of his own perception but also of our social media soaked environment."