Debt-overwhelmed Petrobras cuts further capital spending plans for this year and 2016
Tuesday, October 6th 2015 - 13:02 UTC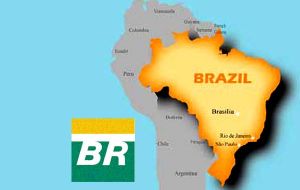 Petrobras struggling with the biggest debt load among global oil firms, on Monday cut $11 billion from capital spending plans for this year and next as Brazil's currency and oil prices slump. Petrobras plans to cut 2015 investment by 11% to $25 billion from the previous $28 billion, according to a statement.
Investment for 2016 will be cut 30% to $19 billion from $27 billion. Budgeted costs plus operating expenses excluding purchases of raw materials were also trimmed for this year and next.
The company is being battered by a whirlwind of bad news. In the last year, oil prices dropped nearly 50% and Brazil's currency, the Real, slipped by a third against the U.S. dollar, causing revenue to fall and debt to soar.
Meanwhile, the downgrade of its debt rating to junk status has raised the cost of borrowing, and a giant corruption scandal has tarnished its reputation with investors.
The cuts announced are the second round of retrenching in three months for the Rio de Janeiro-based company, which recently prided itself on having the world's largest corporate-investment plan.
In late June the company announced cuts to its five-year plan because rising interest payments and a weak currency made the program obsolete.
Hailed as a return to reality after years of missed output goals and a giant corruption scandal that led to $17 billion of write-downs in April, the June plan cut investment 41% to $130 billion from $221 billion for the 2015-2019 period.
Petrobras said that it still plans to sell up to $15.1 billion of assets by the end of 2016. Of that $700 million is expected to be raised this year. By the end of 2019, additional asset sales and other corporate reorganizations are expected to bring that total to $56 billion, an amount double the company's market value of $28 billion.