Brazil's September auto production down 42.1% compared to a year ago
Wednesday, October 7th 2015 - 10:21 UTC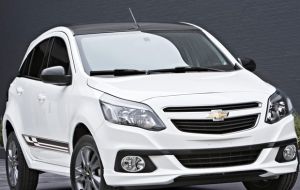 Brazil's auto industry produced 174,200 units last month, down 19.5% from August and a whopping 42.1% from September 2014, the national Association of Car Manufacturers, or Anfavea, said on Tuesday.
The 1.9 million motor vehicles that rolled off Brazilian assembly lines between January and September 30 represent a decline of 20.1% compared with the first nine months of 2014, Anfavea said in its monthly report.
Domestic sales fell 3.5% last month from August and by 32.5% from the level of September 2014. Exports slipped 3.2% from August to September, but were still up 28.7% over September 2014.
Foreign sales of Brazilian vehicles have climbed 12.3% since the beginning of 2015, aided by the slide of the Real, which recently touched a record low against the dollar.
Amid the recession, Brazil's auto sector has taken steps to cut production through reductions in working hours, layoffs and extended furloughs.