Noble Falklands Ltd oil activities are 'illegal' and 'clandestine' claims Argentina
Wednesday, October 7th 2015 - 01:37 UTC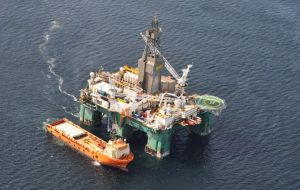 The Argentine government has declared "illegal" and "clandestine" the hydrocarbons' exploration activities carried out off the Falklands/Malvinas Islands by the Houston based Noble Falklands Limited company, according to a resolution by the country's Energy Office.
The decision was published Tuesday in the official gazette with the Energy Secretary communicating the measure to the Foreign Ministry, the Solicitor's General Office and the Public Prosecutor's Office so that they conduct the "convenient legal actions."
Back in June, Federal Judge Lilian Herráez of the city of Río Grande in the southern province of Tierra del Fuego ordered seizures for US$156 million and the confiscation of ships and other assets belonging to oil companies illegally operating in the disputed territories in the South Atlantic, which Argentina claims.
In the latest resolution, the Energy Office also points out that in August 2010 the Foreign Ministry disclosed information on foreign firms, mainly British, carrying out hydrocarbons' activities illegally on Argentina's continental shelf, violating the country's "national sovereignty on the hydrocarbon fields" located in the contested area.
Despite protests by the Cristina Fernández administration, the Falkland Oil and Gas company only recently announced a farm-out agreement with Noble Energy Falklands Limited to conduct such activities in the area.
Later in 2013, the Argentine Energy Office barred the Falkland Oil and Gas from operating in that zone for 20 years.
The Energy Office in its resolution released on Tuesday says that the United States Noble Energy Falklands was not registered in its records. In October last year, the Foreign Ministry sent a note to the United Kingdom regarding the controversy. However, the company's lack of response prompted the sanctions that have been decided, the resolution explains.