The Globe with Shakespeare's "Much ado about nothing", in Chile, Uruguay and Brazil
Wednesday, October 7th 2015 - 02:02 UTC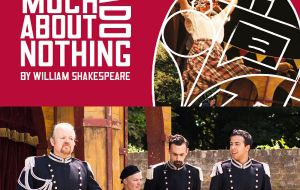 Thanks to an alliance between the British Embassy and Corpartes, renowned British theatre company The Globe will present William Shakespeare's 'Much ado about nothing' at the Centro de las Artes 660 / CA660 in Santiago de Chile. The play will be on stage from 9 to 11 October, sponsored by the British government's GREAT Campaign.
Written between 1598 and 1599, this is considered one of the playwright's most popular comedies, which was presented at Court during the festivities preceding the marriage of Princess Elizabeth Stuart with Frederick V. It tells the story of Beatrice and Benedick's tempestuous romance, amidst a number of comic and dramatic situations. The play was adapted for the cinema in 1993 by actor and film director Kenneth Branagh, with Emma Thompson in the leading role.
Directed by Max Webster, "Much ado about nothing" stars Aaron Anthony, Emma Pallant and a great cast. It will be staged in its original language with subtitles in Spanish. The comedy was presented this year at the Shakespeare's Globe Theatre in London. The company is currently touring Latin America and will be also visiting Uruguay and Brazil.
Shakespeare Globe theatre is a replica of the Globe Theatre, the playhouse where Shakespeare presented his performances 400 years ago. It's located on the south bank of the River Thames, near the spot where the original building used to be. It's one of London's greatest tourist attractions, dedicated to the exploration of Shakespeare's work and the playhouse for which he wrote, through the connected means of performance and education.