Brazilian congress again exposes President Rousseff's political weakness
Thursday, October 8th 2015 - 18:51 UTC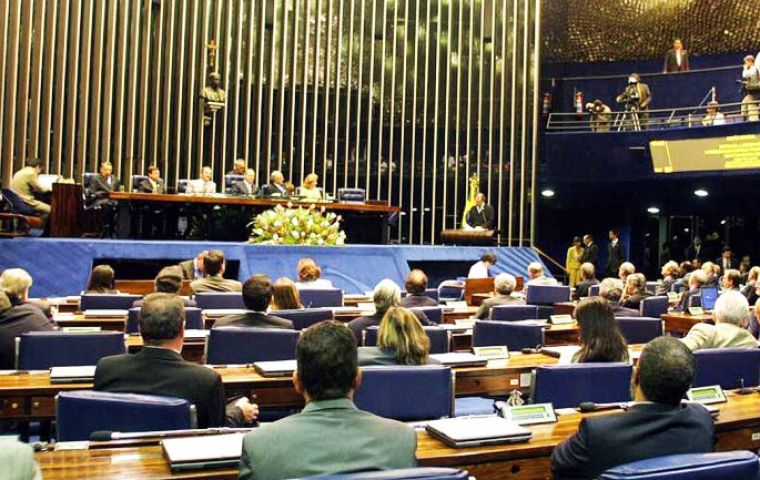 Brazil's Congress on Wednesday postponed for a fourth time voting on whether to overrule President Dilma Rousseff's vetoes of two spending bills in a defeat for her government as it scrambles for support to rebalance overdrawn public accounts.
The government failed to gather enough lawmakers to have a quorum for the session despite a cabinet reshuffle last week that was meant to bolster her position in the legislature.
The new setback highlighted Rousseff's political weakness as she struggles to stave off impeachment efforts by her opponents in the middle of Brazil's worst corruption scandal and the deepest recession in 25 years.
The bills she vetoed would raise public spending by 63 billion reais ($16.4 billion) over the next four years and include a hefty 78% increase in salaries of judiciary employees and a raise in payments for retirees.
Upholding the vetoes was the first test of Rousseff's attempt to secure support since she reshuffled her cabinet to give more positions to her main allies, the center-right PMDB party, in the hopes of winning approval for her austerity measures.
Rousseff faces another challenge to her political survival later when the federal audits court is expected to reject her government's 2014 accounts, a ruling that her opponents are waiting for to try to impeach her for violating Brazil's budget law.
The congressional setback calls into question her ability to raise taxes needed to plug a widening budget gap that led Standard & Poor's to strip Brazil of its investment-grade rating earlier this month.
Rousseff's inability to rebalance the public accounts has driven down the Brazilian Real to its weakest level ever in what some economists call a full-blown currency crisis.