Falkland Islands celebrate 275th Anniversary of "Rule, Britannia!" with new crown coin
Thursday, October 8th 2015 - 18:46 UTC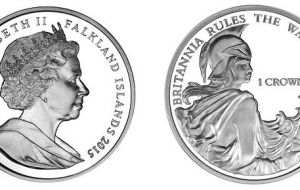 The Treasury of the Government of the Falkland Islands has issued (18th September) a new collector coin commemorating the 275th anniversary of the composition of the tune "Rule, Britannia!" The staunchly patriotic British song was set to music by Thomas Arne in 1740, adapted from the poem, "Rule, Britannia," by James Thomson.
James Thomson, a Scottish poet and playwright, was born in Ednam, Roxburghshire around September 11, 1700. In 1740, Thomson collaborated with his lifelong friend, dramatist David Mallet, on a masque entitled Alfred, which included this work.
Thomas Augustine Arne was born in London on March 12, 1710 into a family of noted upholsterers. He set music to the lyrics of Thomson's poem and debuted this adaptation in the presence of the Prince of Wales on August 1, 1740. The song went on to gain great popularity and became a standard of the mid-18th century; it has endured as a patriotic symbol of British culture ever since.
The tune and its lyrics are considered by many of British and English heritage to be an unofficial national anthem, and the theme is often chosen to represent Great Britain abroad for presentations and events. The classical, Handel-like song instantly conjures up affirming references and images of all things typically British. The song is strongly associated with the Royal Navy, but is also used by the British Army.
The coin, produced by the Pobjoy Mint, UK, on behalf of the Treasury of the Falkland Islands, includes a representation of Britannia, the female personification of the British Isles symbolizing unity, liberty, and strength. She is shown in the foreground holding a trident; the text BRITANNIA RULES THE WAVES is placed around the top half of the primary design, with the denomination of 1 CROWN placed near the center. The waves of the sea are shown in the background.
The obverse of the coin features an effigy of Her Majesty Queen Elizabeth II by Ian Rank-Broadley. The legend of the coin includes the text QUEEN ELIZABETH II, FALKLAND ISLANDS, and 2015.
This coin is available in cupro-nickel (BU) and sterling silver (Proof). For more information on this and other coins issued by the Treasury of the Falkland Islands government, visit the Web site of the Pobjoy Mint. Information is offered in English, with international orders dispatched where applicable.