Rousseff closer to impeachment: government accounting practices 'illegal' says Accounts Court
Thursday, October 8th 2015 - 12:14 UTC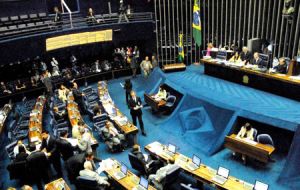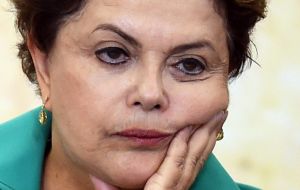 Brazil's President Dilma Rousseff suffered a major new setback Wednesday when a court ruled that her government's accounting practices were illegal, handing ammunition to opponents threatening impeachment proceedings. The decision by the Federal Accounts Court or TCU was the latest blow to Rousseff, less than a year into her second term.
TCU said that her government's accounting practices in 2014, including taking what amounted to unauthorized loans from state-owned banks to make up for budget shortfalls, broke the law.
"The accounts are not a condition where they can be approved. We recommend their rejection," the lead judge, Augusto Nardes, said after the court's panel voted unanimously.
The government says it did nothing illegal and that it was merely juggling funds in line with previous practices.
The court's ruling, which next goes to Congress, was likely to give powerful impetus to Rousseff's congressional opponents, led by the scandal-plagued speaker of the lower house, Eduardo Cunha, who has repeatedly threatened to push for impeachment.
Late Tuesday, another judicial body, the electoral court, or TSE, ruled in favor of probing alleged illegalities in Rousseff's 2014 re-election campaign.
That ruling will not immediately lead to sanctions, instead opening the door to a messy legal and political battle that in theory could result in Rousseff's narrow 2014 victory being declared invalid -- and new elections being organized.
Especially worryingly for Rousseff was that one of the allegations in the complaint brought to the TSE by the opposition PSDB party was that some donations to the president's re-election coffers were linked in part to the massive Petrobras corruption scandal shaking the country.
Rousseff chaired Petrobras, the state oil giant, during the main period of the kickback and political payoff scandal that cost the company more than $2 billion in 2014.
But the scandal -- which has already seen dozens of politicians, high-ranking executives and lobbyists accused of corruption -- has so far left Rousseff relatively unscathed. Now facing two legal assaults and with the country plunged into steep recession, the president's rule is on a cliff edge.
According to the latest opinion poll, approval for Rousseff, from the long-dominant Workers' Party (PT), is at just 10%.
The rejection of the legality of the government accounts was the first such ruling since 1937, when the 1936 accounts were thrown out, officials said.
Tuesday's ruling by the TSE electoral court, meanwhile, was the first time the court has opened such a probe against a sitting president.
The complaint to the election court against Rousseff and her vice president Michel Temer alleged that they engaged in "abuse of economic power, and of fraud, by funding campaign expenses... with donations from Petrobras contractor companies as part of the bribes distribution."