Eirik Raude oil rig operating in Falklands, faces scrapping after contract ends January 2016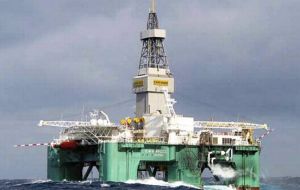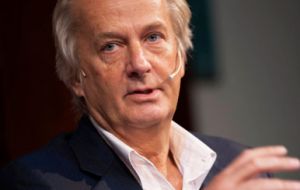 Ocean Rig, the Greek offshore drilling contractor has highlighted in its latest fleet update two rigs coming out of employment shortly with no immediate prospects. Both rigs have little or no "further prospects of employment" according to Ocean Rig and will be cold stacked while disposing of or scrapping the rigs is considered.
The company said that semi-submersible Eirik Raude (built 2002) comes out of contract in the Falkland Islands in 2016, while another semi-submersible Leiv Eiriksson (built 2001) is completing work in Norway by March 2016.
Eirik Raude is currently completing its third in a six-well program in the Falklands and is now expected to remain employed in the Falkland Islands into January 2016. Currently, there are no further prospects of employment for the rig in the Falkland Islands.
In further bad news, drillship Ocean Rig Olympia which started a new contract in Angola also has no further prospects for employment when it comes out of contact in June 2016 the company said. If no employment is found the vessel will be laid up and the respective SPS will be postponed.
George Economou, chairman and CEO of Ocean Rig, commented: "The market continues to remain challenging due to the massive spending cuts initiated by the oil companies. In this environment, cash preservation and liquidity remain our number one priority and we will adjust our available capacity to the new market conditions. For rigs that we cannot secure long-term employment that are coming up for their 5-year SPS we will cold stack the units and in the case of the semisubmersible rigs seriously consider all our options including disposal or scrapping."
Meanwhile another drillship Ocean Rig Mylos working in Brazil with Repsol Sinopec Brasil faces having its contract terminated, with Ocean Rig having received notice of material breach under the contract which entitles Repsol Sinopec to terminate if the breach is not remedied within 75 days.
Ocean Rig claims the notice is totally without merit and intends to vigorously defend its rights under the contract, which began in November 2013 and was for a 3-year fixed term with further options