Guyana now faced with refloated territorial claims from Suriname
Monday, October 12th 2015 - 06:11 UTC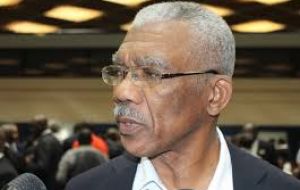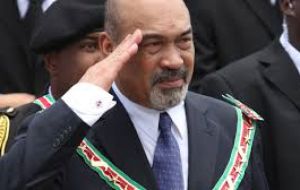 Less than a week after returning from the United Nations, where he raised concerns about Guyana's border dispute with Venezuela, President David Granger was confronted with a similar issue involving Suriname.
Suriname's online media outlet de Ware Tijd reported that Suriname's President Desi Bouterse had said that the issue regarding the New River Triangle territory, which both countries have been claiming intermittently for decades, was back on the agenda.
Stabroek News reported that President Granger dismissed Suriname's reported revival of its claim to the New River Triangle in south-eastern Guyana, calling it "spurious," but said that he will seek clarification on the matter.
"I read the statement attributed to President Bouterse and as far as I am concerned it does not change the price of rice," Granger said at a news conference at the Ministry of the Presidency, his first since assuming office over four months ago.
The president said he would meet with his Foreign Affairs Minister Carl Greenidge before the minister sought official clarification from the Surinamese envoy.
"We feel that this claim is spurious and we have taken measures in the past to protect our territorial integrity and we will continue to do so," Granger said.
According to The Guyana Times, the controversy between Guyana and Suriname is a historical one. The latter laid claims to part of Guyana sea space, which was addressed and essentially settled in Guyana's favor by an international tribunal spearheaded by the United Nations.
President Granger explained, however, that Suriname's claim to the Corentyne River area remains a matter of contention since there has never been a treaty that clearly demarcated the boundary between the neighboring countries.
Additionally, Suriname has also been claiming the New River Triangle area, which encompasses a mass of land that is larger than the size of Jamaica. The President said that while this is a historical claim, this is neither the time nor the place to advance this matter.
He explained that the eastern boundary where Guyana, Brazil and Suriname meet was clearly marked out since 1936. This he said is an indelible mark, since it is the international boundary not the New River Triangle.
"This is what we are going to stand by . . . You cannot convene a meeting of your Parliament and change your boundary," the Guyanese leader noted
Suriname and Guyana are members of Unasur, but Suriname under Bouterse has closer links with Venezuela and Brazil. It should not come as a surprise that Suriname refloats claims when the conflicting situation with Venezuela.
Suriname a former Dutch colony received much aid from Holland, Venezuela in the form of oil and from Brazil in infrastructure support.