"Under no condition, I might resign" says Brazil's Lower House speaker
Monday, October 12th 2015 - 06:19 UTC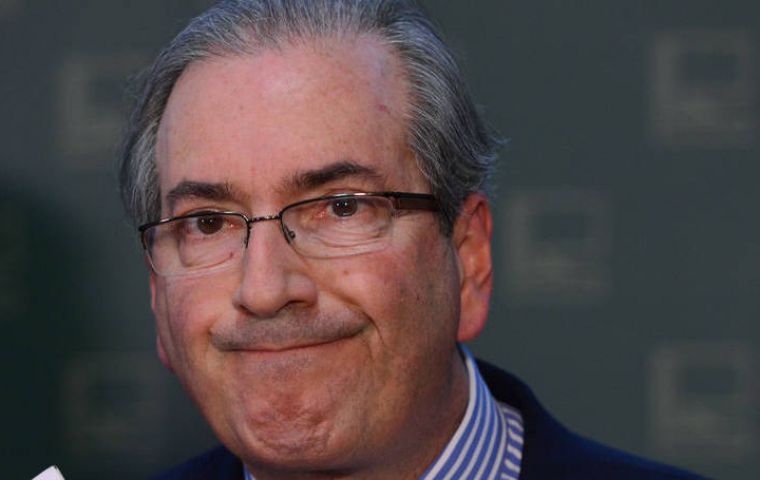 The speaker of Brazil's lower house of Congress ruled out resigning in response to pressure from colleagues over allegations that he took bribes and stashed the money in Swiss bank accounts.
"Under no condition. There's not the smallest chance that I might resign, that I would request approval (to do so) or anything similar," Eduardo Cunha told reporters upon being questioned about a new request by the house ethics committee to investigate the complaints.
The speaker has been questioned about his activities since mid-year when the Supreme Court listed him as one of 50 politicians with immunity being investigated in connection with a massive corruption scandal at state oil company Petrobras.
Cunha's situation worsened last week when prosecutors in Switzerland reported that they had opened an investigation into money laundering and corruption in apparently irregular operations involving bank accounts in the name of the house speaker and his relatives.
Since Cunha denied under oath two months ago before a congressional panel having any Swiss bank accounts, a group of lawmakers requested that legal proceedings be initiated that could potentially lead to the speaker's losing his seat for having lied to his colleagues.
The powerful politician had already been fingered by one of the defendants in the Petrobras case who told prosecutors that Cunha received $5 million in bribes for having facilitated contracts with the firm.
Upon being questioned about the assorted accusations against him, Cunha said only that his attorney would handle those matters.
As speaker of the lower house, Cunha is responsible for setting the congressional agenda and for accepting or rejecting requests to open impeachment proceedings against President Dilma Rousseff.
Up to now, Cunha has rejected five requests to begin an impeachment process, but he is still reviewing 10 other requests and could launch any of them.
Under Brazilian law, if legal proceedings unseated Rousseff and Vice President Michel Temer, the speaker would assume the presidency.