Macri believes an anti-Kirchner front would have doomed his runoff chances
Wednesday, October 14th 2015 - 07:26 UTC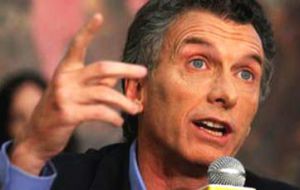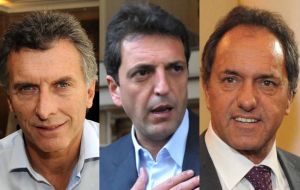 Argentine presidential candidate Mauricio Macri who is running second in opinion polls, defended not having reached an agreement with the Renewal Front's Sergio Massa, (third in the polls) because otherwise incumbent Daniel Scioli would have reached 45% of vote intention which seals any chance of a runoff a month later.
"If we had agreed on an anti-Kirchner front between people who did not support or participate in the government's measures and policies, nor its repeated lies, with a space which was a split of neo-Kirchner, I'm convinced the ruling coalition would have reached 45% vote intention, and this is not happening", underlined Macri.
Under Argentine electoral rules the presidential winner needs 45% of ballots or 40% plus a ten-point difference over the runner up to avoid a runoff on 22 November.
Macri believes that if he had joined with Massa, a former cabinet chief of president Nestor Kirchner, who abandoned the Kirchner side in disagreement with some policies, the incumbent Daniel Scioli would already have the necessary 45% vote intention support, since a percentage of the third placed contender would never cross and vote for the outgoing Buenos Aires City mayor, who is considered "too conservative" for Peronists.
"We now have a clear alternative with PRO (Macri's party), the Radicals (historically the second largest party in Argentina), the Civic Coalition and provincial parties; I believe we have sufficient votes to hold a fair election with the government despite all the resources they are investing and appealing to", underlined Macri.
Macri again brushed aside a second debate challenge from Massa. They both have chances of a runoff with incumbent Scioli.
"We already had a debate (ignored by Scioli who did not attend), the next debate for me with be with Daniel Scioli in the runoff", underlined Macri.
The latest reliable public opinion polls (Poliarquia) show incumbent Daniel Scioli with 37/38% of vote intention followed by Macri with 27/28% and Massa 20/21%.
With just ten days to Election Day, Macri pledged if elected he would implement "Universal access to old age", which means no matter if they have contributed or not to the pensions system, they will be paid a minimum pension and be entitled to free medical care and free medicine, because "not a single grandparent in Argentina will live uncared for by the State".
"This is part of my 'poverty zero' pledge to all Argentines, together with a quality education", indicated Macri in an interview with a Buenos Aires radio station.