UK's new polar ship to be built in Britain; delivery scheduled for 2019
Wednesday, October 14th 2015 - 05:57 UTC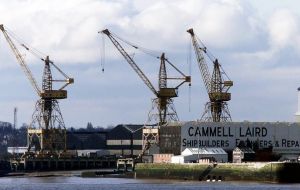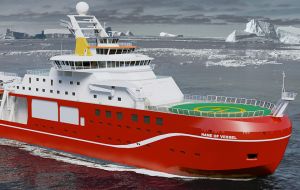 The U.K. Government announced on Monday that Cammell Laird in Birkenhead has been selected as the preferred bidder to build the nation's new £200 million polar research ship. The decision follows a 12-month competitive tender process that involved bids from companies in the U.K., Spain, Norway, Singapore and South Korea.
The winning project will secure jobs and apprenticeships and provide an economic boost to Merseyside, the shipbuilder noted. The shipyard is expected to cut steel in autumn 2016 and deliver the next generation polar research vessel ready for operation by 2019.

The new ship will be operated by the British Antarctic Survey (BAS) and will be available to the whole U.K. research community, including for postgraduate training. It will be able to accommodate up to 60 researchers and technical support staff.
Universities and Science Minister Jo Johnson said, "As a One Nation Government we are investing in science capital on a record scale. This £200 million investment secures the U.K.'s position as a world leader in polar research and provides a major boost to shipbuilding in the North West".
Johnson continued, "Britain has long been a pioneer in ocean science, shipbuilding and manufacturing. Cammell Laird's success in this competition is testament to this expertise and our commitment to continue pushing the boundaries in marine science."
Chancellor of the Exchequer George Osborne said, "In last year's budget I committed £200 million to help put Britain at the forefront of polar research, and I'm delighted to see the preferred bidder is a U.K company in the heart of our Northern Powerhouse.
This will help secure vital jobs and apprenticeships in the North West and also make sure Britain stays at the cutting edge of polar research."
Cammell Laird Chief Executive John Syvret said, "The new contract, which will be finalized later this year, is expected to secure 400 jobs at Cammell Laird and a further 100 jobs within the local supply chain. Cammell Laird has a very successful apprenticeship scheme and would plan to recruit 60 apprentices throughout the term of the contract. Being selected as the preferred bidder in a global tender to undertake such an exciting and major infrastructure project is fantastic news for our workforce, the local region and the U.K. We look forward to helping the U.K. explore the depths of the ocean and push the boundaries of U.K. science."
The new polar research ship, which will operate in both Antarctica and the Arctic, will be able to endure up to 60 days in sea-ice to enable scientists to gather more observations and data. It is expected to have ice-breaking capabilities that will allow it to break ice up to one meter thick when travelling at three knots.
The ship will be the first British-built polar research vessel with a heli-deck to open up new locations for science and will be one of the most sophisticated floating research laboratories operating in the Polar Regions.
The vessel will act as a central hub for a range of data-gathering remote instruments and onboard environmental monitoring systems, featuring a 'moon pool' which allows instruments to be deployed and collect data through an opening in the hull rather than over the side. Robotic submarines and marine gliders will collect data on ocean conditions and marine biology and deliver it to scientists working in the ship's onboard laboratories, while airborne robots and onboard environmental monitoring systems will provide detailed information on the surrounding polar environment.
The ship will also resupply the five U.K. research stations in the Antarctic operated by NERC's British Antarctic Survey.
Funding for the new polar research ship was announced in April 2014 as part of the government's science capital program. Cammell Laird has been selected by the Natural Environment Research Council (NERC) through a full competitive procurement process.
NERC Chief Executive Professor Duncan Wingham said, "This new research ship, which is expected to become operational in 2019, will be equipped with onboard laboratory facilities and will be capable of deploying robotic technologies to monitor environmental changes to the polar oceans and will help U.K. scientists continue to lead the world in understanding our polar regions."
The new vessel follows in a long line of Royal Research Ships, including the RRS Discovery which this week departed from London to Southampton after docking on the Thames to mark NERC's 50th anniversary.
Director of British Antarctic Survey Professor Jane Francis said, "This new research ship will be a tremendous asset to the U.K. polar science community. Our science and operational teams have been working closely with research colleagues from Britain's leading universities and institutes to help create a world-leading science facility. We very much look forward to seeing our ideas become a reality. Crucially, the ship will have the capability to deploy advanced technologies being developed currently in the U.K. These will allow us to capture new ocean and ice data from places that would otherwise be inaccessible. This is a very exciting time for U.K. polar science".