Argentine yacht salvaged in the Falklands, effectively had the purpose of showing the flag
Friday, October 16th 2015 - 06:29 UTC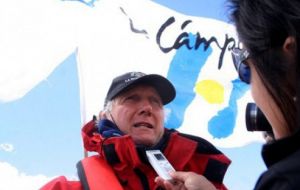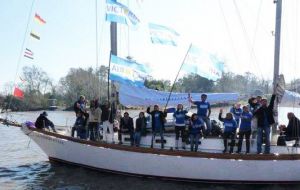 The 'capture' (salvage) by a Falkland Islands Fisheries Patrol vessel of the Argentine flagged yacht La Sanmartiniana adrift in the South Atlantic had a great impact in the Buenos Aires media and immediate political controversy, basically accusing opposition newspapers of publishing dishonest 'pro-British' reports with the intent of jeopardizing the current presidential election.
Furthermore a grouping by the name of FIPCA, Interactive Foundation to Promote the Culture of Water said they were the owners of the stranded 90.000 dollars yacht and denied point blank any relation with La Campora, the youth organization led by Maximo Kirchner, son of president Cristina Fernandez who is also running for Congress in representation of Santa Cruz province.
Allegedly the yacht was sailing in the South Atlantic and at some point covered in Argentine flags was prepared to challenge Falklands' waters with its call for dialogue message.
"The yacht does not belong to La Campora" said FIPCA in a release. It belongs to no political grouping but to FIPCA which has "the purpose of generating fluvial and maritime culture in Argentina. With this in mind youth foundations from all social and political extracts are invited to these activities, with the strong conviction that the new generations will cease to live with their backs to the sea".
"We again regret that we have to clarify this situation but there are some monopoly communication media which constantly report without consulting sources" insisted FIPCA president Julio Cesar Urien.
From La Campora there was also an outburst, "the vessel does not belong to La Campora or to any of its members and Clarin knows this, but it insists with slander as its main information tool".
"What was published is pure lies. A plain, coarse lie which for months has been reiterated by the opposition media insisting that La Campora has a vessel with which it is planning to sail along the Argentine Sea to reach Malvinas. This new infamy from Clarin has reached unbelievable levels and has become a clear malice obsession. An editorial policy destined to harm repeatedly our political organization", said Maximo's grouping in a release.
La Campora was particularly furious when Clarin published a Penguin News report saying La Sanmartiniana was stranded and picked up in the Falklands outer conservation zone by a fisheries protection vessel, and was being towed to the Islands.
However a couple of days later Clarin posted a Youtube video of a meeting in the Nestor Kirchner Hall of Argentina's congress in Buenos Aires where different groupings linked to La Campora participated in the preparation of the South Atlantic tour of La Sanmartiniana, which effectively included a Falklands/Malvinas incursion.
But what happened was that just a few days after leaving Ushuaia on 6 September, captain Javier Vazquez called for help and together with his nine-crew were rescued in the whereabouts of Isla de los Estados, close to Tierra del Fuego. A trawler picked them up and the yacht was abandoned, believing it was condemned.
La Sanmartiniana is now docked at Stanley's FIPASS.