Falklands' southeast exploratory well has found 'oil and gas shows', says FOGL
Saturday, October 17th 2015 - 06:54 UTC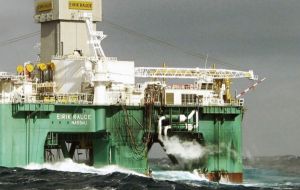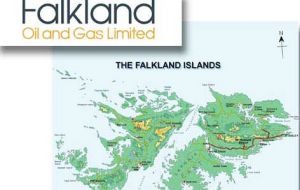 Exploring group Falkland Oil and Gas Ltd. said on Friday the Humpback 53/02-01 exploration well to the southeast of the Falkland Islands has found oil and gas shows, while wire-line logging indicates there are hydrocarbons bearing sandstones within the main target area.
The group said it had decided to drill deeper at the well reaching a depth of 4,718m, where it recorded oil and gas shows whilst drilling through the main target horizon.

"A number of sandstone intervals in the Lower Cretaceous (APX-200) were encountered between 4,642 meters and 4,704 meters and oil and gas shows were recorded whilst drilling through this section. A set of intermediate wire-line logs have been run and these indicate the possible presence, based only on preliminary petrophysical analysis, of hydrocarbon bearing sandstones, within the main APX-200 target horizon. The APX-200 contains approximately 40 meters of net sand, with moderate porosities".
Along with Noble Energy, its partner in the project, the London-listed company said it will drill even deeper to source new targets.
However, FOGL warned the drilling has been "slower than anticipated", because a side-track was required at 4,360 meters for mechanical reasons, leading to a sharp increase in operational costs, as the well remains behind schedule.
"Once the well has reached total depth a further set of wire-line logs will be run," FOGL group said in the statement.
"Subject to operational constraints, this will include a formation test tool which may be able to establish a pressure gradient within the sands and also recover a sample of formation fluid to surface for definitive analysis."
FOGL added it expects to reach total depth by the end of October, when it will proceed to make a further announcement.
FOGL said that because the overall share of the Humpback well costs have increased, the additional targets below the APX-200 sandstone will be carried through the cost of this deepening by Noble in return for assigning a 32.5% equity interest to Noble in these deeper targets (FOGL retaining a 20% working interest).