Lula da Silva questioned for 90 minutes on allegations of influence peddling
Saturday, October 17th 2015 - 06:30 UTC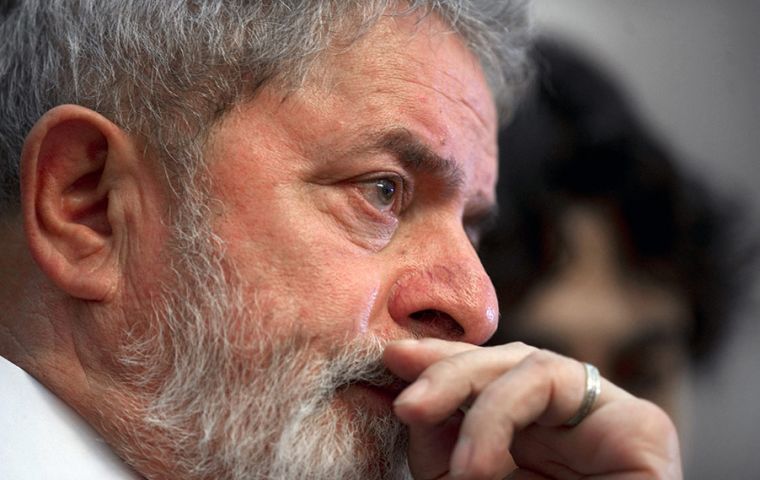 Brazilian ex-President Lula da Silva, who allegedly used his influence to aid a leading domestic engineering group after leaving office, voluntarily testified on Thursday before federal prosecutors during an hour and a half, his foundation said.
Brazil's Attorney General's Office questioned him as part of a criminal investigation it launched in July into whether Lula used his clout to secure low-interest loans from Brazilian state development bank BNDES for construction giant Odebrecht.
"All presidents and former presidents the world over stand up for their country's companies abroad," the former head of state testified, according to a statement released by Instituto Lula.
The investigation has turned up evidence that Lula swayed BNDES to finance projects that Odebrecht - one of the companies implicated in a separate scandal involving the alleged payment of bribes to secure inflated contracts with state-controlled energy giant Petrobras - had been awarded in Africa and other Latin American countries.
Lula stressed that he never interfered with any contract that BNDES signed with private companies, although he said he "always tried to increase the opportunities those companies had to expand internationally, with a view to creating jobs and hard-currency revenues for Brazil," the statement said.
"Anyone who distrusts BNDES has no idea of the seriousness of that institution," it added.
The AG's office is investigating several trips Lula made to Panama, Venezuela, the Dominican Republic and Ghana at Odebrecht's expense. The company acknowledges having paid for some of those trips but denies having hired Lula, who governed Brazil from 2003 to 2010, as a consultant.
After completing his second term, Lula was invited by Odebrecht "exclusively to speak at public events aimed at the defense of the potential of Brazil and its companies," the company said in a May 1 release.
"This was the case of his travels to the Dominican Republic and Ghana, in 2013, when he was hired only for lectures."
Instituto Lula's statement said the former president told prosecutor Ivan Claudio Marx that he paid all tax owed on his lecture-related income and "never interfered with BNDES' autonomy or the bank's lending decisions."
Lula also is to be questioned as a witness in a Federal Police probe into the Petrobras scandal, which involves allegations that suppliers overcharged the oil giant for contracts, splitting the extra money with corrupt Petrobras officials while setting aside some of the loot to pay off politicians who provided cover for the graft.
Dozens of lawmakers, most of them members of the ruling coalition headed by President Dilma Rousseff and Lula's Workers Party, or PT, have been implicated.
Odebrecht CEO Marcelo Odebrecht, meanwhile, has been charged in the case with corruption and money laundering.
The Federal Police has said it believes Lula may have "obtained benefits for himself, his party or his administration by maintaining a base of political support sustained at the cost of illicit business" at Petrobras.
Separately Thursday, in another corruption case shaking Brazil, top newspapers reported that Attorney General Rodrigo Janot has requested a probe be opened against House Speaker Eduardo Cunha after the emergence of documents showing he held secret bank accounts in Switzerland.
Cunha is already the target of a separate investigation into allegations he took part in the sprawling corruption scheme at Petrobras. Cunha maintains his innocence and has repeatedly insisted he won't step down as speaker of the house.
The newspaper O Globo also said Cunha was in negotiations with a top executive branch official that would keep the speaker in his current role in exchange for not opening impeachment proceedings against President Dilma Rousseff, whose popularity has plunged amid the corruption scandals and economic problems. Both Cunha and Rousseff's office denied any such talks.