Batakis 'the Greek' and York graduate, Argentina's next Economy minister if Scioli wins
Wednesday, October 21st 2015 - 07:01 UTC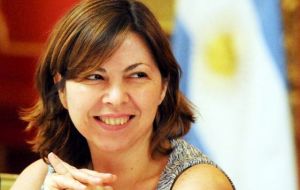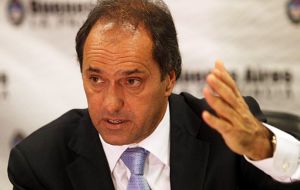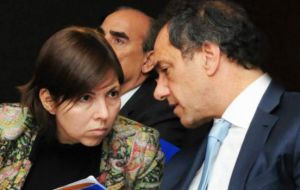 An environment economist graduated in York University could be Argentina's next Economy minister, if the incumbent candidate Daniel Scioli is finally elected next Sunday, or in a runoff a month later. Silvina Batakis, 'the Greek' is currently governor Scioli's economy minister in the province of Buenos Aires and was confirmed for that post this week.
"Batakis is going to be my Economy minister", said Scioli, who leads in the public opinion polls and as part of his campaign message has been making public the names of his 'future' cabinet members and close aides, if effectively he succeeds Cristina Fernandez at the Pink House.
Naming the future Economy minister is crucial given the current situation of the Argentine economy and prospects since under the Kirchners it followed a non orthodox approach with an overwhelming presence of government, subsidies, deficits, money exchange controls, limits on imports, heavy taxes on exports, which undoubtedly have had a strong political result.
Batakis was born 46 years ago in Rio Grande, Tierra del Fuego and spent most of her youth moving around Argentina since he father worked for the oil company YPF. She is of Greek and German descent, third generation, and obtained her degree in Economics from the University of La Plata, the same but from Law School which had Nestor Kirchner and Cristina Fernandez as students.
"The Greek" also has a Master's in Public Finances from La Plata and later completed Environmental Economics studies in York University.
Batakis has been working for Scioli since 2009 as deputy Finance Secretary of the Buenos Aires province, Argentina's largest, richest and biggest electoral district, and became Economy Secretary in 2011. She is considered a more pro-business economist, orthodox in budget affairs and supports foreign investments.
According to Buenos Aires province sources, during her tenure Batakis managed to cut the provincial government debt by half; funds-transfers to districts and city halls increased eightfold; completed a land registry assessment of rural property which was pending for half a century and managed a 230 million dollars loan from the Inter American Development Bank.
However allegedly her more outstanding merit was to have ended 2014 with a budget surplus, following on a significant deficit from the previous year. But as head of the Economy office, in 2012, Cristina Fernandez attacked her boss Scioli as 'incompetent' and publicly demanded he improved the management of the province's finances. At the time the province was short of cash and had to delay the end of year extra month salary payment.
In typical bi-polar Cristina Fernandez style she had him plead several times for the funds, making him give clear proof of loyalty and adherence.
"I need a technician, a good professional; for the coming challenge we don't need any super minister", said Scioli who insisted on "an efficient manager who gradually addresses the main issues we can expect to find".
The incumbent candidate said he was not a man who waits for things to happen, "I go after them. I'm going to promote investments in the country, and strengthen exports".
Scioli also revealed he was working with Brazil for a currencies swap agreement, "so we can have a solid level of international reserves", and regarding the much criticized clamp on dollar purchases, he underlined that "it's a good tool for a responsible management of reserves: it gives priority to imports for manufacturing inputs, over transfers overseas or the sale of international travel tickets".
"I believe the dollar issues will gradually decompress since Argentina will be needing much less dollars to import energy", Scioli added.
The incumbent candidate who is leading in the polls for Sunday's presidential election also indicated he would be respectful of the mandate of current Central Bank president Alejandro Vanoli, who holds office until 2019. Vanoli is a close ally of Cristina Fernandez and is convinced international reserves can be used to pay government debts and cover deficits, as has been the norm since she consolidated her power in the 2011 reelection.
Nevertheless last but not least, even when Ms Batakis obviously has direct contact with her boss, Scioli main financial advisor, according to the Buenos Aires media remains Rafael Perelmiter, with whom he has been linked for over three decades. In effect Perelmiter was the accountant of the Scioli House, at one time one of Buenos Aires largest while line appliances retail stores, which enabled the governor as a young man to have sufficient funds and time to become the world's champion in offshore powerboat racing.