"We will maintain our Malvinas claim, but relations with UK should be broadened"
Friday, October 23rd 2015 - 07:36 UTC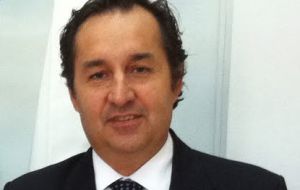 Argentina's presidential candidate Mauricio Macri's top foreign policy adviser Fulvio Pompeo told British newspaper The Telegraph Argentina will take a less aggressive stance over the Malvinas Islands conflict if the Let's Change candidate wins Sunday general elections.
"We have to restore this relationship that has been frozen in recent years, as a result of this conflict," he said in an interview. "We will maintain forever our claim to the Falklands. But our relations with Britain should be broadened," he warned.
Pompeo referred to a secretariat of Malvinas affairs, today headed by Daniel Filmus and created by president Cristina Fernández' administration back in 2013. "We don't need a Malvinas minister," he said, "we have a minister for foreign relations."
About Argentina's relationship with Great Britain, he said: "It's very important to us, and we will work to create different possible areas for constructive dialogue between our countries."
"We're talking about two countries which have a lot in common – for example, in terms of environmental concerns, innovation, culture", he added mentioning the example of the recently inaugurated new headquarters of the City government, a building designed by British architect Norman Foster.
"It's a big symbol. That is the type of agreement we want to see repeated. So it's a symbol of how we want to look for ways to work together, and how we can resolve this conflict," he said.
"In the last few years historically-good relations have deteriorated with countries such as the USA, the EU – countries with whom we share values, economic interests and cultural friendships," he warned. "There is confrontation with Chile over energy, with Uruguay over paper mills, with Brazil things are quite paralyzed for one reason or another.
"Argentina will change its way of relating to the world," Pompeo concluded.