An overwhelming majority, 65% voted for change in Sunday's election, said Massa
Thursday, October 29th 2015 - 06:15 UTC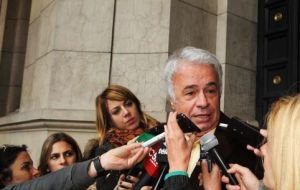 On Sunday 35% of Argentines voted for continuity of Kirchnerism and 65% voted for a political change, and between the two options, change overwhelmingly won, said Sergio Massa, the third ranked candidate who with his 21% has become kingmaker between the two presidential hopefuls for the November runoff, incumbent Daniel Scioli and market friendly opposition, Mauricio Macri.
However change must be built intelligently so that it does not mean going back or misbalances in society, pointed out Massa who added that "every Argentine is owner of his vote, dreams and expectations".
Massa and the main leaders of his Renewal Front made public on Wednesday their promised program document, which includes the main proposals of their electoral campaign, but careful of not advancing any suggestion of whom they would support on 22 November, Scioli or Macri.
Next to Cordoba governor Jose Manuel De la Sota, political ally Gustavo Saenz and former economy minister Roberto Lavagna, a presenter read out the document with the list of demands from the group's political definition and later said that "that candidate who decides to follow the proposals most probably will have the greater chances of attracting the majority of the 5.2 million votes that supported the Renewal Front".
The document proposals calls for improving old age pensions, eliminating levies on salaries, making corruption an imprescriptible crime, combating the drugs trade and an end to impunity for all those who loot the State.
"We're not after jobs, but changes", said Massa who insisted that "we are not owners of people's votes, we trust the free choice of the Argentines, and whoever has the courage to tell our supporters that they will advance on our proposed ideas, will most probably have the electoral choice".
"People are not cattle, and change means an end to the whip and the wallet, so commonly used the last years", Massa pointed out that "on 22 November there's no election, Argentines will have to opt, and we are determined to make our option very clear since Argentina needs a change, but not any change".
Massa added that the next president must make a commitment that those responsible for corruption will be jailed and the law related to crimes against the State will be changed, 'something we will fight for to the very end".
On Sunday there were two big losers, Kirchnerism and the opinion polls: "I ceased to trust Kirchnerism long time ago, now I've made it extensive to the opinion polls".
Governor De la Sota who was crucial in defeating Kirchnerism in Córdoba, a province which belongs to the short list of Argentina's main electoral districts, and pressed on his vote, said that "the Argentine people voted on Sunday: a thirty odd percentage considered convenient for things to continue as they are. Another 36% voted for change and 21% for us. We don't want things to continue as they are, nor do we want to change everything".