Noble Energy begins production in Gulf of Mexico deepwater oil development
Thursday, October 29th 2015 - 06:06 UTC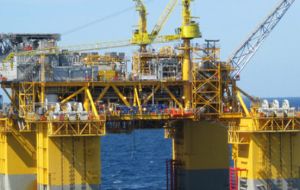 Noble Energy with interests in Falklands' exploration, has commenced production from the Big Bend oil development in Mississippi Canyon 698 of the deepwater Gulf of Mexico. Noble and partners expect the single-well field to reach a maximum gross production rate of approximately 20,000 boe/d over the next couple of weeks. Approximately 90% of the volumes being produced from Big Bend are oil, Noble said.
"We continue to build on our strong track record of major project execution with Big Bend coming online less than three years from discovery and within our sanctioned budget," said Gary W. Willingham, Noble Energy's executive vice president of operations.
"Big Bend is the first of three major projects planned to come online for us in the Gulf of Mexico over the next nine months, contributing significant oil production and cash flow to the business. Short cycle times to first production, strong well deliverability, and low production costs from our Gulf of Mexico projects deliver attractive returns even in today's environment."
Big Bend is part of the Rio Grande complex, which includes two other discoveries Troubador and Dantzler. The latter two finds increased gross discovered resources of Rio Grande to 140-240 MMboe, according to Noble. Big Bend and Dantzler, in Mississippi Canyon 782, are subsea tiebacks to the third-party Thunder Hawk production facility. Another discovery, Gunflint, is planned to be a two-well tieback to come online in mid-2016. Combined, these fields are planned to double Noble's deepwater Gulf of Mexico production in 2016.
Earlier this year, EMAS AMC's Lewek Express was tasked with installing 113,000ft of umbilical at Big Bend, as well as a 36,000ft umbilical at the Big Bend Gas Lift project, and a 43,471ft umbilical at Dantzler. Its sister vessel, the Lewek Constellation, worked on the Big Bend, Dantzler and Gunflint subsea tieback. The total scope includes over 80mi (130 km) of pipe-in-pipe flowlines and over 56mi (100 km) of umbilicals in up to 2200m water depth.
Additionally, Noble said it will accelerate the Dantzler development, which is a two-well development, and now expects first production by early November.
Noble Energy operates Big Bend with a 54% working interest. Its partners include W & T Energy (20%), Red Willow Offshore(15.4%) and Houston Energy Deepwater Ventures V (10.6%).
Noble also operates Dantzler with a 45% working interest. Its partners include Ridgewood Energy (35%) and W & T Energy (20%).