Petrobras largest union on strike protesting sale of company's assets
Monday, November 2nd 2015 - 09:30 UTC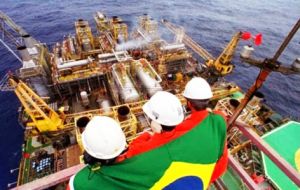 Brazil's largest oil union began an open-ended strike on Sunday, protesting against attempts by the government to shrink the state-run oil company Petrobras, which is reeling from a corruption crisis and a crash in the oil price.
FUP, which represents platform, refinery and other workers, joined a number of smaller unions already on strike when it began industrial action at 3 pm local time (1800 BST).
Petrobras, in an emailed statement, said oil production or refining is not affected by the strike. The company added it is open to meeting with unions.
A statement on FUP's website said the decision to strike had been made after more than 100 days of negotiations with Petrobras.
The company wants to pay down debt, which at about $120 billion is the most of any oil company, and generate cash for investment and revive investor confidence after a massive corruption scandal.
In an earlier statement last Friday announcing the strike, FUP said it wants asset sales stopped, work on refineries resumed, local content rules maintained, and a guarantee that Petrobras remain the sole operator in Brazil's sub-salt offshore oil area.